New coins release more than enough nickel to trigger dermatitis.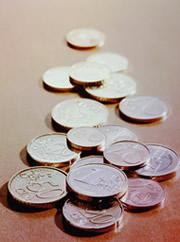 Euros break the European Union's own rules. The currency, adopted by most of Europe at the beginning of this year, can release up to 320 times the amount of nickel that European Union (EU) regulations say triggers skin reactions in people allergic to the metal.
This is one of the highest rates of nickel release ever measured for any coins. Frank Nestle of the University of Zurich in Switzerland and colleagues have now worked out why - and it's not just that the new coins contain too much nickel.
In a sweaty palm, each coin is like a tiny battery, Nestle's team shows. When sweat gets between the two different alloys of the central pill and outer ring of 1- and 2-euro pieces, metal ions flow between them. This makes the coins corrode, releasing nickel ions, which can set off itching and redness in up to 30% of the population.
The problem could get worse the more the coins are handled, the researchers warn. When they bathed a 1-euro coin in artificial human sweat for 36 hours, it became brown and corroded.
The EU nickel directive states legal limits for the amount of nickel released by items that are normally in prolonged contact with the skin, such as earrings or watches. It is not routinely used to test coins. "I could debate the meaning of 'prolonged contact'," comments Nestle.
Nickel is the most important allergen in the environment, says Andrew Finlay, consultant dermatologist at the University Hospital of Wales in Cardiff, UK, because of the frequency with which people come into contact with it. Nickel is common in jewellery, coins and clothing such as jean studs.
"Dermatologists have been lobbying the EU for many years to reduce nickel exposure Andrew Finlay , University Hospital of Wales"
Dermatologists have been lobbying the EU for many years to reduce nickel exposure, comments Finlay. But the success gained from the EU nickel directive was not repeated with the euro coins. "It is a great pity that this opportunity was lost," he adds.
Lower-value euro coins are made of nickel-free alloys. Many countries wanted all the new euro coins to be nickel free.
"There are advantages to putting nickel into coins," explains Nestle's colleague Hannes Speidel. Nickel is magnetic, which helps vending machines to identify the coins. Using two alloys also makes the 1- and 2-euro coins harder to counterfeit.
Even for people with nickel allergies, the coins will not pose huge health risks. The most common reaction is red, sore skin. Those who handle lots of money, such as shopkeepers or bus conductors, could be most at risk.
References
1

Nestle, F. O., Speidel, H. & Speidel, M. O. High nickel release from 1- and 2-euro coins. Nature, 419, 132, (2002).
Additional information
 University Hospital of Wales
Related links
Related links
Related external links
About this article
Cite this article
High nickel release from 1- and 2-euro coins. Nature (2002) doi:10.1038/news020909-9
Comments
By submitting a comment you agree to abide by our Terms and Community Guidelines. If you find something abusive or that does not comply with our terms or guidelines please flag it as inappropriate.