Anemone dwellers form an orderly queue to breed.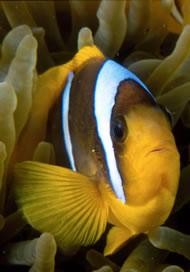 Clownfish stay small to avoid eviction. Groups of them live in sea anemones, and new tenants limit their growth so as not to incur the wrath of established incumbents.
If a fish is removed, smaller fish put on a growth spurt to take its place. "It's a perfect queue," says Peter Buston of Cornell University in Ithaca, New York. "No one ever jumps the queue and no one ever moves between anemones. They just wait."
Buston studied clownfish (Amphiprion percula) living on coral reefs in Papua New Guinea, as he told the International Society for Behavioural Ecology's meeting in Montreal, Canada this week.
Clownfish larvae live in the plankton. When they mature they must find an anemone - within its tentacles are food, shelter and a place to breed.
But all of the anemones are already taken. Each contains a dominant breeding pair and up to four smaller, subordinate fish. The biggest fish is always a female about 65 mm long. Fish change sex as well as size as they move up the social ladder.
A young fish's only hope is to be taken on as a junior partner - which the incumbents do not always allow - and hope that those above it eventually disappear.
"The animals are prisoners," comments zoologist Mark Abrahams of the University of Manitoba in Winnipeg, Canada. "They're being forced into a cooperative social system."
By creating artificial groups, Buston found that fish are more likely to be chased from the anemone if they are similar in size to the one above them in the hierarchy. Fish seem to tolerate others who are less than about 80 per cent of their own size.
The animals are prisoners Mark Abrahams , University of Manitoba Winnipeg, Canada
Abrahams wonders why large subordinates do not seek out vacancies on other anemones. "If you're in a large colony, there could be a big benefit of moving to another location," he says.
But travel between anemones is prohibitively dangerous, explains Buston: "There's an exceptionally high probability of being preyed upon if they try to move."
Additional information
 University of Manitoba Winnipeg, Canada
Related links
Related links
Related external links
About this article
Cite this article
Whitfield, J. Clownfish know their place. Nature (2002). https://doi.org/10.1038/news020708-4
Published:

DOI: https://doi.org/10.1038/news020708-4