Organic farming means quality, not quantity.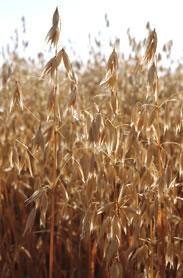 Organic farming is more energy-efficient than its conventional counterpart, say Swiss researchers. Their 21-year study shows that lower yields of organic crops are more than compensated for by the benefits of using less fertilizer and pesticide1.
Organic fields have healthier soil and a greater diversity and number of organisms, including earthworms, beneficial fungi, beetles and wild plants. They also release less of the greenhouse gas carbon dioxide than conventionally managed farmland.
"Organic agriculture will never be as productive as intensive farming," comments organic agriculture researcher Ulrich Koepke of the University of Bonn, Germany. "But in terms of energy use, carbon use and wildlife, organic is better."
The team grew crops including wheat, potatoes and grass in organic regimes without added chemical fertilizer and pesticide, and regimes that used pesticides, mixed manure and inorganic fertilizer, or just fertilizer.
The study is one of the few long-term direct comparisons of organic and conventional farming. Farmers were on hand to advise the researchers over the course of the experiment. "We kept as close as possible to farming systems as they are in practice," says soil scientist Andreas Fliessbach of the Research Institute of Organic Agriculture in Frick, Switzerland, where the experiment was carried out.
Organic yields were on average around 20% less than when chemicals were used. The difference ranged from a roughly 40% decrease for potatoes, which need more nutrients and suffer from blight, to 10% or less for wheat and grass. The gap could be greater in other parts of Europe, says Fliessbach, as Swiss non-organic farming is less intensive than some systems.
To claim that this shows that organic is better is saying too much David Powlson , Institute for Arable Crops Research, UK
Cutting out fertilizer meant that producing organic crops used one-half to two-thirds as much energy, and pesticide input was cut by 97%. "Organic farming is more economic," says Fliessbach. Conventional produce is unnaturally cheap, he adds, as farmers don't pay for the environmental effects of intensive agriculture, such as pesticide pollution.
Increased organic inputs into farmland are a good thing, agrees soil scientist David Powlson of the Institute for Arable Crops Research, Rothamsted, UK.
But that doesn't mean that fertilizer and pesticide are damaging, he says. "Modifying conventional agriculture doesn't imply that you have to go the whole hog and exclude all sorts of useful things."
"To claim that this shows that organic is better is saying too much," Powlson concludes.
The new study adds to a growing list showing the virtue of an organic approach. Previous work has found that organic apple plots in the United States were more profitable and sustainable than non-organic ones2, and that organic soils are better at holding on to nutrients, yet give comparable yields3.
References
Mader, P. et al. Soil fertility and biodiversity in organic farming. Science 296, 1694 - 1697 (2002).

Reganold, J. P., Glover, J. D., Andrews, P. K. & Hinman, H. R. Sustainability of three apple production systems. Nature 410, 926 - 930 (2001).

Drinkwater, L. E., Wagoner, P. & Sarrantonio, M. Legume-based cropping systems have reduced carbon and nitrogen losses. Nature 396, 262 - 265 (1998).
Additional information
Institute for Arable Crops Research, UK
Related links
Related links
Related external links
About this article
Cite this article
Whitfield, J. Green fields are efficient. Nature (2002). https://doi.org/10.1038/news020527-12
Published:

DOI: https://doi.org/10.1038/news020527-12