Stem cells' fates are a multiple choice.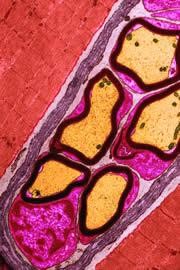 Asingle stem cell from adult mouse muscle can form enough blood cells to save another animal's life - and still switch back to making brawn, researchers announced at the Washington meeting of the American Society for Cell Biology this week.
Stem cells found in mashed up muscle can migrate into the bone marrow and make blood cells1. Muscle contains many different types of cell, however, and the exact identity of the one responsible remains unclear.
Johnny Huard, of the University of Pittsburgh in Pennsylvania, and his colleagues selected a group of adult mouse muscle cells that kept dividing for days and were marked by a distinct array of proteins.
When injected into mice whose bone marrow had been killed by radiation, the stem cells replaced it. Mice that would otherwise have died after 2 weeks survived for 6 months. And, when new blood stem cells were recovered and injected into a third mouse, they reverted to producing more muscle. This backtracking to their original job is the "most amazing thing", says Huard.
"It shows that cells can go in many different directions given the right environment," says stem-cell researcher Helen Blau of Stanford University in California. The traditional view - that stem cells progressively and permanently lose their initial ability to produce many cell types - is changing, she argues.
Rather than a one-way road of cell destiny, "It looks like a San Francisco highway", says Blau. Stem cells can go off at one exit to make nerve cells and rejoin to make liver cells when the need arises.
Embryonic stem (ES) cells may still have properties that adult stem cells lack, cautions Ron McKay of the Memorial Sloan-Kettering Cancer Center in New York. Adult nerve stem cells are more likely to stop producing new nerve cells than are ES cells, he says, arguing for continued experimentation with the controversial human cells.
"I'll say it because we're in Washington: they [ES cells] grow without changing their developmental potential," he says.
"We weren't looking for stem cells," explains Huard. He and his team were trying to find muscle cells that could restore the missing protein dystrophin in patients suffering from the wasting muscle disease Duchenne muscular dystrophy (DMD). They wanted cells that were tough enough to survive transplantation into a patient.
They injected their selected cell group, labelled so that they could be tracked, into mice with a form of DMD. But the cells rarely turned up in muscle. Instead, Huard found them in heart, liver, lung, spleen - but mainly bone marrow. "I got sidetracked," he says.
Huard is now trying to coax his stem cells back to muscle by searching for the molecules that lure them there. Working muscle cells would bump up dystrophin levels. "It will be very exciting," he predicts.
To finally identify the elusive muscle stem cell, researchers must start from a single cell, warns Blau: even Huard's group of purified cells could contain outliers with unknown effects. Such a technique identified an 'ultimate' stem cell from bone marrow earlier this year2.
References
Jackson, K.A. et al.Hematopoietic potential of stem cells isolated from murine skeletal muscle.Proceedings of the National Academy of Science 96, 14482 - 14486 (1999).

Krause, D.S. et al.Multi-organ, multi-lineage engraftment by a single bone marrow-derived stem cell.Cell 105, 369 - 377 (2001).
Related links
Related links
Related external links
About this article
Cite this article
Hematopoietic potential of stem cells isolated from murine skeletal muscle. Nature (2001). https://doi.org/10.1038/news011213-9
Published:

DOI: https://doi.org/10.1038/news011213-9