Fossils bridge gap between land mammals and whales.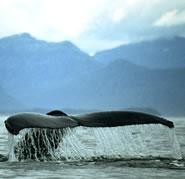 Fifty million years ago, two mammals roamed the desert landscapes of what is now Pakistan. They looked a bit like dogs. They were, in fact, land-living, four-legged whales.
Their new-found fossils join other famous missing links, such as the primitive bird Archaeopteryx, that show how one group of animals evolved into another. And they undermine the two prevailing theories about which land mammals are most closely related to cetaceans - whales, dolphins and porpoises1.
"This is an astounding discovery, with tremendous evolutionary implications," comments palaeontologist Zhexi Luo, of the Carnegie Museum of Natural History in Pittsburgh, Pennsylvania. "It's important progress in mapping out the family tree of the major mammal groups, and will help to resolve some controversies. I'm all cheered up about it."
The new mammals are the fox-sized Ichthyolestes and the wolf-sized Pakicetus. They had meat eaters' teeth, but were not genuine canines, having longer, more powerful tails, longer snouts and smaller eyes than dogs.
A closer look reveals Ichthyolestes and Pakicetus' true allegiance. The two have "several strange bones in their ears that occur only in whales", says Hans Thewissen, of Northeastern Ohio Universities College of Medicine in Rootstown, Ohio, one of the fossils' finders.
They also have a bone in their heel characteristic of even-toed ungulates, such as deer and sheep. An analysis of both skeletons places them, and other cetaceans, in a related, but separate, group from the even-toed ungulates.
"Everyone will agree that these animals are whales," says Thewissen, and yet the wettest they probably ever got was wading across a stream. Other primitive cetaceans recently discovered in Pakistan, dating from 47 million years ago, also have the ungulate anklebone, but their limbs are more adapted for life in the water2.
Because cetaceans are so unlike any land mammal, with their legs as paddles and their nostrils atop their heads, it has been immensely difficult to place them in the evolutionary scheme of things.
Earlier fossil studies related them to the mesonychians, an extinct group of meat eaters. The new discoveries send this idea "out the window", says Thewissen.
Rapid evolutionary change is extremely difficult to reconstruct
Less likely to be abandoned on the strength of Thewissen's evidence is an alternative hypothesis, based on DNA sequence analysis. This is the idea that cetaceans are more like hippopotamuses (another even-toed ungulate) than any other land mammal.
"Almost all the molecular data place cetaceans within the living even-toed ungulates, as a sister group to hippopotamuses," says evolutionary biologist Ulfur Arnason of the University of Lund in Sweden.
Rapid evolutionary change, be it molecular, ecological or anatomical, is extremely difficult to reconstruct, and the speed with which cetaceans took to the water may make their bones an unreliable guide to their ancestry, he says
Arnason believes the two camps will remain divided, at least for now. "There's no point trying to reach some sort of consensus based on compromise. It has often been very difficult to reconcile morphological and molecular opinions," he says.
References
Thewissen, J. G. M., Williams, E. M., Roe, L. J. & Hussain, S. T. Skeletons of terrestrial cetaceans and the relationship of whales to artiodactyls. Nature 413, 277 - 281 (2001).

Name, P. D., ul Haq, M., Zalmout, I. S., Khan, I. H. & Malkani, M. S. Origin of whales from early artiodactyls: hands and feet of Eocene Protocetidae from Pakistan. Science 293, 2239 - 2242 (2001).
Related links
Related links
Related links in Nature Research
Related external links
About this article
Cite this article
Whitfield, J. Almost like a whale. Nature (2001). https://doi.org/10.1038/news010920-11
Published:

DOI: https://doi.org/10.1038/news010920-11