If you want to make mink happy, let them go swimming.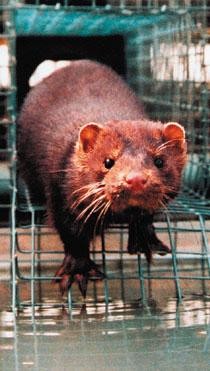 If the economics of consumer preferences were different, Georgia Mason wouldn't be studying mink. Now, ironically, Mason, from the University of Oxford, and her colleagues have used economic measures of consumer preference to find out what it takes to make fur-farmed mink content. The answer? A paddling pool1.
By giving mink a choice of different experiences, and making the animals work to get them, Mason's team found that mink really want to swim and become stressed when locked out of the pool. This is the first time that objective preference measures have been used together with conventional indicators of animal stress levels to investigate animal welfare during captivity.
Mink welfare has been a topic of debate for some years. Breeders argue that mink have been captive for 70 generations without outward signs of stress and so probably don't suffer as a result of their confinement.
Proving otherwise has been difficult. "Measuring suffering is very hard," says Michael Mendl, a behavioural biologist at the University of Bristol, UK. Because there is no objective way of knowing if a healthy, well-fed animal in captivity is 'unhappy' or not, a "proxy indicator for suffering" must be used, he says.
Mason and her team did exactly that by measuring what fur-farmed mink were most motivated to do.
The researchers gave the animals access to a number of different resources like those they can find in the wild: a new nest site, toys, more space, a tunnel, another cage, new objects, a raised platform and a pool. The mink could see all the experiences on offer, but they could only visit one at a time, and had to push weighted doors to get to them.
By increasing the weight of the door -- the 'cost' of getting to each resource -- Mason and her team measured how much the mink were prepared to 'pay' for each one. This approach, which has been used before by psychologists measuring human motivation, allowed them to calculate which of the resources was the most popular overall.
"It's almost like exposing them to inflation," says Mason. The researchers calculated their results as measures of consumer preference such as 'elasticity of demand' and 'reservation price' -- identical to those used by economists to understand consumer desires.
Most mink worked hard to get to an alternative nest site, but more than anything else they wanted to go swimming -- lifting an average of 100 times their body weight each week to get to the pool.
Next, by locking the door to the pool and measuring the levels of the stress hormone cortisol in the animals' urine, the researchers got an idea of whether mink missed swimming.
When the mink were prevented from paddling for 24 hours, cortisol levels in their urine rose by an average of 50% -- similar to the level found when the mink were denied food for the same length of time.
Mason's research suggests that mink, even after so many generations in captivity, still hear the call of the wild. The researchers hope to apply their techniques to studying other captive animals, such as laboratory rats. "I suspect that a lot of animals are in a lot more trouble than mink," says Mason.
References
Mason,G. J.,Cooper, J. & Clarebrough, C. Frustrations of fur-farmed mink. Nature 410,35- 36 2001.
About this article
Cite this article
Clarke, T. Mink or swim. Nature (2001). https://doi.org/10.1038/news010308-1
Published:

DOI: https://doi.org/10.1038/news010308-1