A leading dancer and a Cambridge scientist discuss their collaboration.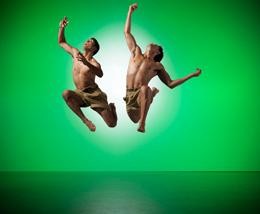 Nicky Clayton studies animal cognition at the University of Cambridge, UK, and has just been appointed scientist-in-residence at the Rambert Dance Company in London, Britain's leading contemporary dance group. Nature talked to Clayton and Mark Baldwin, Rambert's artistic director, about their working relationship and the company's latest production: an exploration of childhood called Seven for a secret, never to be told.
How did this collaboration come about?
Nicky Clayton: For years it felt like a Jekyll and Hyde relationship that I was a scientist by day, studying how crows and children think, and at night I was either performing or teaching dance classes. And, for me, the worlds related through the power of movement — by day I spend a lot of time carefully watching how animals move. But I didn't have any connection between them.
Mark Baldwin: The big project that came up and started our friendship was to do with evolution. We have a friend — John Keynes — whose great-grandfather was Charles Darwin. He introduced us. Nicky came in initially as someone who understood evolution. After we worked on that piece, I thought it would be a good idea to have a scientist-in-residence. Art is about ideas, and science is about ideas and what you do with those ideas to come up with new ideas.
What is the current production about?
MB: Seven for a secret is about how children think at a particular age, their cognitive abilities. And of course that leads to ways of behaving and ways of moving, and ways of hearing music and ways of seeing.
NC: I suppose the overarching idea was that when it comes to thinking and behaving — in other words moving, moving the brain or the body, or both — young children are not mini-adults. Then, within that, we have three concepts and they are linked together.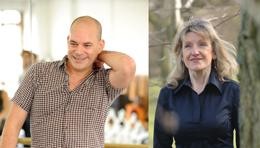 One of them is 'inside–outside' – the idea that as a young child 'my world' and 'the world' are the very same thing. The second one is the tension between imitation and innovation. You have to start somewhere with copying, but if you're creative when you start to play with the copying you realize you can change bits of it, and that leads you on to new ideas and new ways of seeing the world. The third one is an extension of that — it's about the power of play and how play allows children to explore the world in interesting ways but within a semi-safe haven.
NC: Of course it's based on the nursery rhyme. It was nice to have a subtle link to the crows. There's a sense in which children think a bit like crows; they don't have very well developed linguistic skills. There's this whole reference to what it's like to think without reliance on language, and the interesting ideas about how that might, in some sense, make you more creative. That's very much what choreography does — the words are not in the way, it's a separate process and a different process.
MB: And because Nicky's birds can't speak she can only tell what's going on by watching them move. So it's nice to have a scientist here watching movements. It helps us draw conclusions we hadn't thought of and have a different perspective on the whole thing.
Have you met with suspicion from some in your communities?
MB: I think they're still highly suspicious, but there's a lot more acceptance of it than there was. I'm not the first artist to work with science — people have been doing it for millennia. When I first made it public I was doing this, I had an arts critic ring up and say 'I don't get it — what is all this dance and science stuff?'. You're up against suspicion, but curiosity is quite a nice thing. It means we can talk about the company in a completely different way.
Have you found more similarities between your worlds than you expected?
MB: It's amazing the commonalities, actually. Art is about ideas and science is full of ideas. We are working with the same things. It's just really nice to meet a scientist who also works with movement. You [Nicky] are choreographic in your science. How do you coordinate 100 crows, some experiments, the people you need to show those experiments to, the students coming up to join you? I've got 22 dancers, she's got 100 crows.
NC: There's a very personal aspect to dance too, which is the same with the science. When I'm writing a grant proposal or designing experiments, in the same way, I think, as with your choreography, Mark, there's a sense in which you're baring your soul. It's your work and if people don't like it that's because of you. There's always that fear in science and in dancing — am I good enough, what if things go wrong, what if I fail? It's wonderful, but it's not easy.
NC: We've discovered so many surprising similarities despite the improbable connections that we're writing a book about the commonalities in the processes. Most people only see the product, by buying tickets to see a performance of the dance or listening to what the scientist has found. They don't see either process revealed, and, of course, in both the scientific experiment and the choreographic works these processes usually take a long time.

Additional information
Seven for a secret, never to be told shows at the Theatre Royal in Glasgow 3–5 November and then in Norwich, London, Bradford and Plymouth.
Related links
Related links
Related links in Nature Research
Related external links
About this article
Cite this article
Cressey, D. Crows, children and choreography. Nature (2011). https://doi.org/10.1038/news.2011.608
Published:

DOI: https://doi.org/10.1038/news.2011.608