DNA tests of shipwrecked jars illuminate early trade markets in the Mediterranean.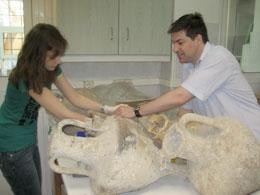 A DNA analysis of ancient storage jars suggests that Greek sailors traded a wide range of foods — not just wine, as many historians have assumed. The study, in press at the Journal of Archaeological Science1, finds evidence of vegetables, herbs and nuts in nine jars taken from Mediterranean shipwrecks. The researchers say DNA testing of underwater artefacts from different time periods could help to reveal how such complex markets developed across the Mediterranean.
Archaeologist Brendan Foley of Woods Hole Oceanographic Institution (WHOI) in Massachusetts and geneticist Maria Hansson of Lund University, Sweden, retrieved DNA from nine amphorae — the storage containers of the ancient world — from sunken ships dating from the fifth to the third centuries BC.
The researchers found grape DNA — as would be expected for containers of wine — in only five of the nine jars, and olive DNA, possibly from olive oil, in six of them. Other 'hits' included DNA from legumes, ginger, walnut and juniper and from herbs such as mint, thyme and oregano.
Amphorae have been found in their thousands in wrecks all over the Mediterranean Sea. Some of them contain residues of food, such as olive pits and fish bones, but the vast majority of them are discovered empty and unmarked.
Foley says historians tend to assume that these containers were used mainly to transport wine — in a survey of 27 peer-reviewed studies describing 5,860 amphorae, he found that 95% of the jars were described as having carried the beverage.
To test that assumption, he and Hansson first investigated an amphora that was donated to WHOI by the French diver and explorer Jacques Cousteau, but it yielded only a Carling Black Label beer can from the 1950s.
So they gained permission from Greek authorities to test amphorae that had been held in storerooms in Athens since their retrieval as many as 20 years ago. This time, the tests were successful, possibly because the jars had been kept in the dark, protecting the DNA from the damaging effects of sunlight.
The range of ingredients found in each jar suggests that amphorae were commonly reused, and that they may have contained more complex foodstuffs than previously imagined, incorporating herbal flavourings or preservatives.
Mark Lawall, a specialist in ancient Mediterranean trade at the University of Manitoba in Winnipeg, says that historians have been quick to make assumptions about how the jars were used. "They just restated the common opinion without any thought," he says. He says the team's results fit with other archaeological and written evidence suggesting wine, oil and honey were traded, as well as fruit, fish, meat and resin.
He says the DNA approach offers "great promise for advances in terms of analysing amphora contents from archaeologically documented wrecks", where DNA data can be combined with other sources of information about a ship and its contents.
This is indeed the team's plan — they already have plans to analyse samples taken from a fully excavated third-century-BC wreck that was found near Kyrenia, Cyprus. Foley says he would also like to screen amphorae of different ages to build a picture of how ancient trade developed over time, pinpointing when different crops were introduced.
Theotokis Theodoulou, an archaeologist at the Ephorate of Underwater Antiquities in Athens and a co-author on the paper, says there are "several thousand" amphorae held in store rooms around Greece, which could now be tested. "Even when they have been in store rooms for two decades, DNA is still on them," he says.
The study of DNA from underwater artefacts is still in its infancy, but in theory, the stable temperatures and pH of sea water should preserve DNA well, adds Matthew Collins, a bioarchaeologist from the University of York, UK.
The approach is not necessarily limited to amphorae — it could also be used on tableware, or on small bottles and jars that might have held cosmetics or medicines, says Foley. "This opens up an entirely new view of this early market," he says. "Now we can start to record what was actually being traded."

Related links
Related links
Related external links
About this article
Cite this article
Marchant, J. Ancient Greek ships carried more than just wine. Nature (2011). https://doi.org/10.1038/news.2011.594
Published:

DOI: https://doi.org/10.1038/news.2011.594