King's College redesigns programme to focus on biomedicine.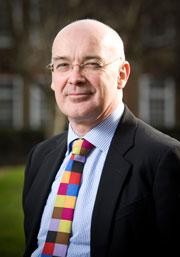 Eight years after closing its doors, the chemistry department at King's College London reopens this month. The programme was shuttered in 2003, around the same time that several other UK universities were also closing expensive lab-based science courses to cut costs. From 2012, the chemistry department at King's will be teaching an MSci in Chemistry with Biomedicine. University vice-principal Chris Mottershead tells Nature about the decision to resurrect the department.
At a time when funding for UK universities is tight and lab-based courses are expensive to run, why reopen the chemistry department?
There has been a resurgence in interest in the basic sciences that you can see all the way from secondary schools through to university. There has been a constructive change in the broader environment and we are reflecting that.
At King's we have quite a large community of chemists already that are doing really good chemistry but lack a sense of identity. The teaching degree has emerged not simply because management said 'this would be a good thing to do' but because of the energy and commitment of a considerable number of those staff who actually want to teach chemistry to chemists.
We have one of the country's five academic health-science centres and we want to make it the best. Improving patient outcomes requires a lot of things, but is underpinned by excellence in a whole range of scientific disciplines, from the social sciences to the natural sciences. It would be a struggle to have that world-class academic health-science centre if you didn't acknowledge the key importance of chemistry in so many areas, from pharmaceutical sciences to cell biophysics. This is not just about an important academic discipline, this is about how we connect that to our population base and the wider economy.
How will the department be structured?
The chemistry department will be in the School of Natural and Mathematical Sciences. It will be different in the sense that most of the chemists will sit in other places round the college rather than in the chemistry department. But we will have a chemistry hub, for which we have announced five new positions. One of them will be the Daniell chair of chemistry, which goes back nearly 200 years. It's not a reinvention, but we do believe that although this isn't a virtual department it will act more as a discipline home for the broader community.
The intent is to teach chemistry with a focus on its applications in biomedicine. It's not just a new version of biochemistry; we want to equip people to be proper chemists, but chemists whose future careers are probably in the health area. We won't teach a straight chemistry degree; Imperial College London and University College London run perfectly reasonably chemistry degrees, so why would we want to duplicate something that already exists elsewhere?
Will the department's structure ease funding problems?
Absolutely. The start-up costs would be prohibitively large if we didn't already have that community, because we'd have to carry the staff while they got their own research funding. We don't need to do that other than for the five new positions of the hub.
Previously there was a contradiction. To teach all the chemistry disciplines, we needed a department larger than the viable student population could support. You end up with this contradiction that we and other people just couldn't work out how to resolve.
Britain has introduced a new fees regime. Will this help you to pay for the department?
I don't think we know enough to say that. The decision isn't based on the fees regime at all. We decided to do this two years ago.
Chemistry has always struggled, and falling student numbers and the cost of running the department were why we and other universities had to close chemistry in the past. It wasn't that we didn't value chemistry or chemists. We just couldn't make the numbers add up.
We're searching out a different organizational model that allows us to be much more robust, whatever the government decides to do. With this hub-and-spoke model, we can use existing resources to make the department viable.
What reaction have you had to the news of reopening the department?
There is something about it. Our chemists are excited, the external world is excited, the people who were in our last chemistry department and went elsewhere seem to be excited. They could be legitimately slightly bitter, but they don't seem that bitter at all.

Related links
Related links
Related links in Nature Research
Related external links
About this article
Cite this article
Sanderson, K. Chemistry resurrected at London university. Nature (2011). https://doi.org/10.1038/news.2011.521
Published:

DOI: https://doi.org/10.1038/news.2011.521