Campaigners says scientist is falsely accused of gathering information on Iran's nuclear programme.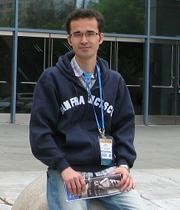 Omid Kokabee, an Iranian physics doctoral student affiliated with institutions in the United States and Spain, will go on trial tomorrow in Teheran facing charges of "communicating with a hostile government" and "illegal earnings".
Kokabee has spent the past six months in jail on suspicion of conspiring against Iran (see 'Missing physicist may have been jailed in Iran'). Meanwhile, friends, colleagues and other scientists have coordinated a growing campaign to protest his innocence. They say that the graduate student in laser physics is not a political activist, and presents no security risk to the country.
Yesterday, the online opposition website Kaleme published an open letter from Kokabee to the head of Iran's judicial system, Ayatollah Sadegh Ardeshir Larijani, in which he claims his innocence. The letter is genuine, according to a friend of Kokabee's who asked to remain anonymous for fear of being targeted by the government. "Neither me nor my family are or have ever been political activists," the letter says.
This week, the Committee of Concerned Scientists (CCS) based in New York, an independent organization committed to human rights, has sent a letter to Iran's Grand Ayatollah Ali Hoseyni Khamene'i, asking him to "correct a grave mistake made by the government officials in jailing Omid Kokabee".
Kokabee, an Iranian Turkmen, moved from Iran to the Institute of Photonic Sciences (ICFO) in Barcelona, Spain, in 2007, to conduct his graduate studies. He moved to the University of Texas in Austin in August 2010 to study for a PhD in experimental physics, specializing in the design of tunable lasers.
In February, Kokabee was arrested by the Iranian security services while trying to leave Iran after visiting his family. He was taken to Evin prison in Teheran, where he spent more than 30 days in solitary confinement and was interrogated. In the letter posted by Kaleme, Kokabee claims that he was forced to sign a confession. More recently he has been moved to a different part of Evin where he is allowed to read and interact with other prisoners.
In the trial, which sources in Tehran believe will start on 16 July, Kokabee expects to be accused of being paid by a US intelligence service to leak information about Iran's nuclear programme.
"Omid received the standard, typical funding that many graduate students receive", says Lluís Torner, director of ICFO. John Keto, graduate adviser for physics at the University of Texas, adds that "his trip to Iran was not paid directly from University of Texas funds, but likely from personal savings from his stipend".
Another Iranian source familiar with the case says that Kokabee's lawyer, Saeed Khalili, has not been allowed to meet his client. "Please provide me with the opportunity to defend myself in a fair and just manner," Kokabee writes in his letter.
"People who know Omid believe that he is a person dedicated to his studies who does not fit these allegations," says Eugene Chudnovsky, a physicist at the City University of New York who helped to coordinate CCS's letter.
The letter argues that "as scientists, we can assure you that his research and studies had nothing to do with nuclear energy".
"Imprisonment of Omid Kokabee and his upcoming trial have planted fear in the hearts of thousands of Iranian students that are currently studying abroad", says the letter. "Iranian graduate students here are now quite afraid of going back to Iran," agrees Keto.
Related links
Related links
Related links in Nature Research
Related external links
About this article
Cite this article
Catanzaro, M. Iranian physics student faces trial for spying. Nature (2011). https://doi.org/10.1038/news.2011.420
Published:

DOI: https://doi.org/10.1038/news.2011.420