Country's drug industry looks to exploit growing Japanese market while fending off tougher European patents.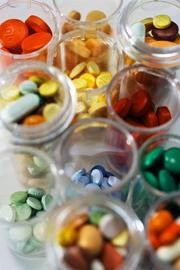 India's generic drugs industry, which has boomed since the country abandoned patent protection in 1970, has long been a lifeline to poor countries, supplying HIV drugs that have saved millions of lives, for example. Now India is aiming to become a drugs factory for rich countries such as Japan.
But at the same time as India's drug companies look East, health advocates are concerned that the European Union's (EU's) demand for stricter patent rules on generics will hamper the country's ability to act as a pharmacy for the developing world.
Japan is keen to use more generic drugs as a way of curbing its skyrocketing health-care costs: the country spends some 36 trillion yen (US$450 billion) a year on health care, and this could rise to 93 trillion yen by 2035. This April, Japan signed a free-trade agreement with India that should make it easier for Indian companies to reach the Japanese market.
Generics account for just 18% of Japan's $97-billion drug market, compared with 70% in the United States. Japanese doctors are mainly responsible for this, says Ludwig Kanzler, a partner at the Tokyo office of consultancy firm McKinsey, as they have "resisted any significant changes to the health-care system, and certainly all changes that restricted the freedom of doctors".
In a bid to raise the share of generics to 30% by 2013, the Japanese government brought in reforms last year, including encouraging hospitals to prescribe generics and promoting the use of the drugs among patients. Now, several blockbuster drugs, such as the anticholesterol agent Lipitor (atorvastatin) and the antidepressant Paxil (paroxetine), are about to go off-patent in Japan, says Kanzler.
"That becomes quite a compelling market for generics, and obviously Indian companies will be eyeing it up," says Kiran Mazumdar-Shaw, head of Biocon, an Indian biotechnology firm in Bangalore.
Several Indian companies already supply active pharmaceutical ingredients (APIs) – the key components of generics — rather than the finished product, to Japanese companies. Ind-Swift, headquartered in Chandigarh, has just received approval from the Japanese regulator, the Pharmaceuticals and Medical Devices Agency, to supply APIs for risedronate sodium (for osteoporosis) and pioglitazone (an antidiabetic). The company has five other applications for APIs for cholesterol-lowering and Alzheimer's drugs in the pipeline.
But Japan's notoriously fussy data requirements and slow review process have stymied Indian companies, says Mazumdar-Shaw. The free-trade agreement should ease this, she adds. Import duties should also drop, from 4-10% to zero.
Anurag Chaturvedi, Ind-Swift's associate vice-president of international marketing, says the company is keen to go beyond APIs and provide generics direct to Japan's health system.
The agreement may also lead to more deals between Japanese and Indian companies. In 2008, the pharmaceutical company Daiichi Sankyo bought the Indian drug firm Ranbaxy with a view to expanding generics production in Japan. And another leading Indian generics manufacturer, Hyderabad-based Dr. Reddy's, is currently scouting for a Japanese partner.
Meanwhile, in trade negotiations, the EU had sought to allow European drug companies to own the copyright on data from their clinical trials. This would have meant that Indian firms would have had to conduct duplicate trials of off-patent drugs before making generics.
The EU has now backed down on this, but the problem remains, says Katrien Vervoort, policy officer at Oxfam's Brussels office, as India is itself likely to introduce data exclusivity for its own companies at some point. "In that case, it would also apply to European industry," she says.
Aid organizations say that other aspects of the agreement to protect drug companies' investments threaten the health of the poor. If patent restrictions squeeze too hard, India is likely to want to issue compulsory licences to force the generic production of patented drugs in order to meet public-health needs. But a clause in the agreement that treats intellectual property as an investment may threaten India's ability to lift patent barriers in this way, says Michelle Childs, director of policy and advocacy at the campaign for access to essential medicines run by the medical charity Doctors Without Borders.

Related links
Related links
Related links in Nature Research
About this article
Cite this article
Shetty, P. Indian generics giants set sights on Japan. Nature (2011). https://doi.org/10.1038/news.2011.377
Published:

DOI: https://doi.org/10.1038/news.2011.377