Diseases such as malaria and HIV still present a major challenge to vaccine development, says Gates foundation's departing global-health chief.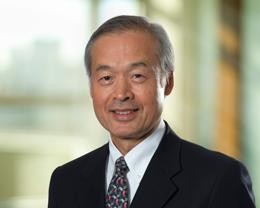 As president of global health at the Bill & Melinda Gates Foundation, based in Seattle, Washington, 66-year-old Tachi Yamada has been responsible for allocating billions of dollars to health projects around the world. He leaves this month after 5 years in the job. So does he think he made a difference? Yamada spoke to Nature about his past achievements, future plans and the challenges ahead for the planet's health.
What is your legacy at the Gates foundation?
We made a difference in four key areas. One is urgency about the world's health care. The second is innovation. Change can't be evolutionary — it has to be revolutionary. So we designed programmes like the Grand Challenges Explorations programme to tap the innovators of the world. Third, we've focused a lot of attention and investment on measurement. We invested in programmes to capture data, like the World Health Organization's Health Metric Network, and worked hard to create an expectation that health information will be made freely available. Last, we've made an effort to create meaningful, substantive partnerships with international health agencies like the World Health Organization and Médecins Sans Frontièrs; with donor nations; with industry; and with agencies like the US National Institutes of Health [NIH], the Wellcome Trust and the Medical Research Council.
What was the biggest challenge you encountered in the global-health field?
Most people in the developing world, particularly in South Asia, but also in sub-Saharan Africa, access care through the private sector and pay out of pocket. It's a challenge to know how to impact that sector because most of our programmes in global health are meant to be run through the public sector and the government. But, in reality, if you're a mother in sub-Saharan Africa with a child suffering from malaria, you don't go to the hospital first — you go to, say, a travelling druggist. Figuring how to reach that interface between the front-line private-health system and the patient needing care is going to be a great challenge for all of us.
A lot of progress has been made in global health during the past 5 to 10 years. Given the economic crisis is this sustainable?
I don't understand the anti-corporate bias...the reality is that vaccines are made by companies. Tachi Yamada , President, Bill & Melinda Gates Foundation
Last Monday there was a financial replenishment conference in London for the GAVI Alliance. In these tight economic circumstances there was a fair amount of trepidation that this conference would not be able to raise the money that it needed — US$3.7 billion — for the next five years. And gratifyingly, we were able to raise $4.3 billion. At the same time, the pharmaceutical industry is reducing prices significantly; GlaxoSmithKline, for instance, just cut the price of rotavirus vaccines by 67%. Even though we all have to tighten our belts, there is still a commitment to the prevention of unnecessary death and misery in poor people.
The Gates foundation has been criticized for spending most of its grants on US companies and researchers. How do you defend the foundation's resource allocation?
A lot of people don't realize that a principal grantee might be in the US, but a lot of the money gets subgranted or subcontracted to investigators in the developing world. We also created the Grand Challenges Explorations grants with the idea that they would be easy to apply for, and we have been able to reach out to people in the developing world that way. All of us have to look at our grant-making process and figure out how to make it easier for people from the developing world to apply for money and put it to good use.
What is the biggest challenge the Gates foundation faces in its work on global health?
One of the biggest challenges is how to make vaccines in a predictable way. Despite all the advances in science, we still don't have an effective vaccine for HIV, tuberculosis or malaria, which affect millions of people. The state of vaccine science is not as advanced as some other areas of science, like genomics or stem-cell research. So we really need to put a firm focus on vaccines.
The global-health field is traditionally sceptical of corporations. Has that changed during your time at the Gates foundation?
I don't quite understand the anti-corporate bias that the global-health field might have had in the past. The reality is that vaccines are made by companies. They are not made by universities or the NIH. Our strategy has been to work very closely with companies to develop new products and create an affordable price for those products.
Let's go back to rotavirus. The vaccine was developed by Merck and GlaxoSmithKline. The price was quite high in the developed world and we were able to negotiate it down. At the same time, we've invested in two Indian manufacturers that promise to bring that price down to the $1.50 range, and in technology at biotechnology companies that could reduce the price to 25 cents or so. The only thing we care about is that rotavirus vaccine gets delivered to children so that they don't die from diarrhoea, and in the process we've worked with private, for-profit companies at every level.
What will you be doing next?
I am going to spend a considerable amount of time in Japan. I was born and brought up there, but I've never worked there, so this is something I've always wanted to do. If my father was still alive he would be very happy to see me back in Japan in some way. So I am going to work with Takeda Pharmaceuticals. And I'm going to work with some friends and colleagues who have spent many years overseas to try to figure out how we can inform policy in Japan to assist the country through a very difficult period in its history, where there is political instability, very significant challenges to its finances, and disasters such as the earthquakes and nuclear disaster. I think it's time for Japan to have the advice and counsel of people who understand Japan and who can bring a broadly international perspective to policy and practice.

Related links
Related links
Related external links
About this article
Cite this article
Check Hayden, E. Vaccines warrant firm focus. Nature (2011). https://doi.org/10.1038/news.2011.373
Published:

DOI: https://doi.org/10.1038/news.2011.373