Two endangered species advocates on opposite sides of a deal with the US government stake their positions.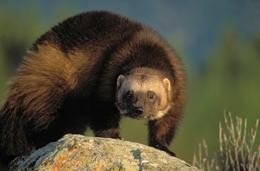 On 10 May, the US Fish and Wildlife Service (FWS) and a conservation group called WildEarth Guardians announced an agreement that called truce on a longstanding series of lawsuits. For years, there has been a slow-motion arm wrestling match in US wildlife conservation. Activists have complained that the FWS, the agency that administers the US Endangered Species Act of 1973 and decides which species to list for protection, works too slowly. Hundreds of vulnerable species linger on a candidate list, sometimes for decades, while the agency crawls through bureaucratic procedures, only taking action when forced to do so by lawsuits. And the FWS has complained that conservation groups such as WildEarth Guardians of Santa Fe, New Mexico, are themselves slowing the process by constantly suing the agency.
The agreement was supposed to resolve both complaints. The FWS promised to produce a plan to speedily process selected candidate species, racing through more than 250 by September 2016, and WildEarth Guardians promised to limit the lawsuits and new petitions for listing — in effect, giving the FWS a chance to catch up.
But WildEarth Guardians isn't the only group that spends its time prodding the FWS into action. The Center for Biological Diversity, based in Tucson, Arizona, pulled out of the same agreement at the last minute, and on 17 May, they convinced a judge to put a stay on the deal. All three parties - the Fish and Wildlife Service, WildEarth Guardians and the Center for Biological Diversity must now meet, in person, and try to hammer out a new deal that will please them all. Nature spoke to John Horning, executive director of WildEarth Guardians and, in a separate interview, Kierán Suckling, executive director of the Center for Biological Diversity, about the agreement. Their answers to our questions are presented together below.
Both of your organizations are well known for petitioning and suing the government to get species on the Endangered Species List. What differentiates you?
Horning : There is an ecosystem of groups out there. There is some overlap. Redundancy in ecosystems is sometimes a good thing.
Suckling : WildEarth Guardians is mostly a regional group. The Center for Biological Diversity is the only national group completely devoted to the protection of endangered species. If you look at the total number of species put on the Endangered Species List in its 38-year history, the Center secured the listing of more than half. In the past ten years, we have secured the listing of almost all of them.
How did this negotiation come about?
Horning : The negotiations started in earnest in September 2010. Before that there were many, many, many different lawsuits and then a bunch of our related lawsuits were put before a multi-district litigation panel. It was out of that litigation that the negotiations arose.
Suckling : We have been in some level of negotiations with the FWS since the end of the administration of President George W. Bush. We actually had a settlement approved all the way to the Department of Interior, but it was rejected by the solicitor's department.
Then we started over with President Barack Obama's administration and negotiated up until about eight weeks ago, when we finally said we just weren't willing to sign the current deal because it was too vague, too weak and set too many limits on the protection of endangered species not covered by the agreement. So we began a new round of talks.
Neither Guardians nor the FWS told us that they were holding their own talks. We woke up one morning to find that Guardians had filed this settlement. We filed our own paperwork [on 16 May], telling the court that we are opposing the Guardians settlement and asking the court not to sign it.
Why is the Center for Biological Diversity unhappy with the settlement?
Suckling : The settlement allows the FWS to walk away at any time if it decides that there are too many listing petitions or that its listing programme is out of balance. That gives the service carte blanche to just not do what is in the settlement. This agreement is simply not enforceable.
The settlement itself is predicated upon other groups not filing additional Endangered Species Act petitions and litigation, so essentially if groups other than Guardians file petitions or litigation, the FWS will pull out. It creates an untenable Sophie's choice for every other group. Do we proceed to protect some species at the risk of reducing protection for others?
The wolverine (Gulo gulo) is a good example. It is a highly endangered species in the lower 48 owing to global warming and it is not included in this settlement, which means that the FWS will take no action to protect it for at least six years.
On the other hand, there is the yellow-billed cuckoo (Coccyzus americanus). It once occurred everywhere west of the Rocky Mountains, but it has declined dramatically. We filed a petition to list it as an endangered species in 1998 and two lawsuits to get it to its current position on the candidate list. So after 13 years of work, we are now stuck in the horrific position of risking protection of the cuckoo if we move to protect the wolverine.
Also, if you look at the current settlement, 87% of the species were petitioned or litigated for by the Center. It takes several years of work to get a species to a point where you can either file suit or have a settlement agreement. Rather than stick to their own species, they chose to file settlement on ours on weak terms that they knew we opposed. That is seeking to hijack another group's campaign. It is pathetic; it is unprofessional.
What is WildEarth Guardians's response to the Center for Biological Diversity's arguments?
Horning : We all have difficult decisions to make. Guardians has hundreds of other species that it has petitioned for that are not subject to this agreement, species that will not benefit from this agreement. So one could argue that we have abandoned those species to reach this deal. And that is something that my colleagues and I have grappled with.
We made the decision to support this agreement because we felt it was in the best interests of endangered species across the country that had been waiting for years, if not decades.
As far as "taking credit," I didn't know that anyone had endangered species ownership rights. I view it as unfortunate that there is any discussion about groups. What matters is whether we are advancing protection for species that have been waiting for so long. At the end of the day, have we advanced biodiversity protection?
What does yesterday's stay mean for the settlement. Is an agreement still possible?
Suckling We think that this is a wise decision and opens up an opportunity to fix what is a deeply flawed agreement. We think it is definitely possible and preferable to reach a settlement on this, but it has to be one that all parties want.
Horning : There's a huge potential silver lining to this, which is out of this issuance of the stay emerges an agreement that includes more species. We wanted the Center on this agreement. And we will find out by 20 June whether we can put our heads together.
After your many years working with the Endangered Species Act, do you think it is a good way to conserve species and ecosystems?
Horning : I still am inspired by the vision of the Endangered Species Act. I think it is pretty incredible that our Congress has passed a law that says that we will not stand by and allow a species to go extinct. And I disagree with those who say we need an endangered-ecosystem act, because I think that is one of the bedrock principles of the species act. In the preamble to the act it talks about "ecosystems upon which endangered and threatened species depend".
Suckling : The Endangered Species Act is the strongest and possibly the most successful environmental law in the United States. It has an excellent success rate in preventing species from going extinct, so it is the best possible tool you could have.

John Horning is the executive director of WildEarth Guardians of Santa Fe, New Mexico. He's been with WildEarth Guardians for 17 years and in wildlife advocacy for 20 years.

Kierán Suckling is the executive director of the Tucson, Arizona-based Center for Biological Diversity. As one of its founders, he has been at the Center for its entire 23 years.

About this article
Cite this article
Marris, E. US wildlife truce divides conservationists. Nature (2011). https://doi.org/10.1038/news.2011.296
Published:

DOI: https://doi.org/10.1038/news.2011.296