Celebrations over the country's shrinking caseload need to be qualified, a new analysis shows.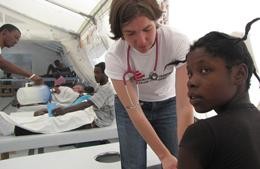 Last week, three months into Haiti's cholera epidemic, local and international health agencies noted with cheer the news that the number of cholera cases in all ten of Haiti's departments seems to have either reached a plateau or started to fall. But there are signs that this trend should be viewed with caution, and that a more nuanced analysis is needed that takes into account differences in the rural and urban incidence of the disease.
For now, the undeniable success is that overall mortality rates have continued to drop from highs of around 6% as the epidemic took hold to about 1% — numbers that are more in line with mortality for outbreaks elsewhere.
And, as health agencies debate how to control a disease from which, since 21 October, 189,000 have fallen ill and roughly 3,800 have died (see 'Cholera vaccine plan splits experts'), many are saying that it could have been much worse. Haiti's slums and tent camps are squalid and overcrowded. Although it is impossible to measure the individual effects of component medical and infrastructure-related efforts, it looks as though the various campaigns to battle the disease have staved off a much bigger calamity.
But the numbers hide a disturbing fact: rural areas are still experiencing high infection and mortality rates. As of 11 January, the fatality rate in the Southeast department bordering the Dominican Republic was 10.1%. In Nippes, in the south of the country, it was 8.4%. By contrast, the capital Port-au-Prince's 0.9% rate was much lower than any of the departments.
Port-au-Prince's success has been the countryside's failure. How did this divide emerge?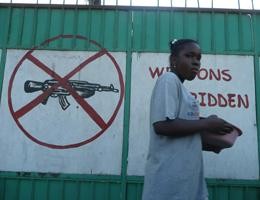 The urban edge is most visible at cholera treatment centres in Port-au-Prince. The medical charity Doctors Without Borders (MSF) runs a centre in Martissant, one of the most dangerous slums in one of the world's most dangerous cities. The gangs, guns and persistent threat of violence led the United Nations to label Martissant a "red zone", meaning staff require security clearance and usually an escort of peacekeeping soldiers.
On the gate outside the camp, scrawled images of a handgun, a machine gun and a knife have been crossed out with a large red X and a roughly painted "Weapons Forbidden". Armed guards who, according to MSF staff, accompanied a US Fox News crew this morning had to check in their guns at the door.
Inside, however, this is one of the calmest spots in Port-au-Prince. In part, the tranquillity comes from the lethargy of the ill. But the facility also has the air of a situation under control.
A steady stream of 40 to 50 people a day enter the centre. Heike Haunstetter, an MSF doctor, shows us the two emergency tents — one for children, the other for adults — along with another tent for milder or recovering cases, and a fourth for patients about to be discharged.
In the emergency tent, nurses inject both arms of an elderly woman. Haunstetter pinches the skin of the patient's abdomen to show how severe dehydration causes skin to lose its springiness.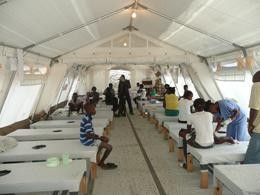 The mortality rate here has dropped to 0.5%. "We feel things are stabilizing, though there's no comprehensive statistical evidence for that," says Haunstetter.
With a system in place, MSF now has the luxury of hiring two clowns wearing weird glasses and quirky costumes to help make their point. The clowns sing of hygiene and hydration, fetching glasses of water that, through humorous exhortation, they force patients to drink.
The urban success has also been a result of efforts to improve water quality, sanitation and hygiene. The International Organization for Migration (IOM), for example, based in Geneva, Switzerland, has set up oral-rehydration centres, built latrines and is sending over 170,000 litres of water per day to the 250 most vulnerable of the country's 1,150 camps.
"There's even access with text messaging to people in the camps. The camps are easy to target," says Patrick Duigan, head of the IOM's health division in Haiti. The rates at which people become ill are difficult to calculate because they are usually scored at hospitals, but there has been no dramatic 5–7% that has been seen in other countries, he says, adding that in terms of a health threat from cholera, "there's been no real difference between the camps and non-camps".
Such attention has not been possible in rural areas, says Jean-Claude Mubalama, chief of health of the United Nations Children's Fund (UNICEF) in Haiti. The Congolese epidemiologist and doctor explains that some rural areas have only one nurse for 10,000 people and that access is blocked by mountains and rivers. Some would have to walk for four hours, crossing the rivers, to get to the closest cholera treatment centre.
It's not much easier for aid workers. Mubalama indicates on a map a 25-kilometre distance in the southwest. "It took me a full day just to drive from here to here." He points to several areas in the northwest and south. "Nobody's there to take care of those people," he says.
MSF, the IOM and other organizations have made some headway, especially in the north. But some say the situation could have been better handled. MSF, in a report to mark the anniversary of the earthquake, censured the Pan American Health Organization, the World Health Organization's regional arm, for misdirecting resources by making projections of larger caseloads occurring in metropolitan areas.
The report reads: "Huge amounts of aid were concentrated in Port-au-Prince while insufficient support was provided to the inexperienced health workers battling the disease's aggressive spread in rural areas. MSF teams found some health centres facing shortages of life-saving oral rehydration solution and others that had simply been shuttered."
According to staff at the Martissant camp, doctors comment on how they have "never saved so many lives before". Those working in rural areas could never make such claims. The epidemic makes for tough choices for aid workers, keen to make the most of their resources. "People want to be where they can show rapid results, where they can get visibility," says Mubalama. "That is why there are so many in the city."

Related links
Related links
Related external links
About this article
Cite this article
Cyranoski, D. Cholera care fails to reach rural Haitians. Nature (2011). https://doi.org/10.1038/news.2011.25
Published:

DOI: https://doi.org/10.1038/news.2011.25