Independent body aims to offer risk assessments to policy-makers and the public.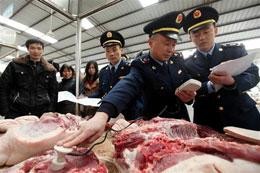 It seems that barely a month goes by without a new food scandal dominating newspaper headlines in China. After the latest, in which farmers illegally dosed pigs with a drug called clenbuterol to make the meat leaner, thousands of animals were destroyed and almost a hundred people were detained by police investigating the incident.
Meanwhile, hundreds of dairies were closed this month after failing a safety audit. The inspections are part of a tougher inspection regime instituted since the revelation in 2008 that milk was being routinely adulterated with melamine, making hundreds of thousands of children ill.
Yet despite a series of initiatives to stamp out illegal activity in the food industry, the embarrassing scandals keep coming. "It looks as though China's regulation is very lax and our Chinese researchers are completely incapable," says Wu Yongning, chief scientist for food chemical safety at the government's Ministry of Health. "But this is not true."
Although the main problem lies in enforcing food-safety regulations, Wu believes that China's new National Centre on Food Safety Risk Assessment, expected to open later this year, could help to improve food standards and bolster public confidence in Chinese produce.
Wu is expected to lead the centre's daily operations as deputy director, and says that it will provide, for example, scientific evaluations of maximum safe limits of food additives and contaminants. The centre will have a staff of more than 300 scientists and public-health experts, will organize reviews of existing research on food safety, and commission additional research where needed.
Wu says the centre will provide scientific advice on food safety to policy-makers, and also take a lead on communicating risk to the general public. He notes that there is widespread public mistrust of the government's food regulation efforts, partly because it is perceieved to lack scientific credibility. The new centre's independent experts could help fill that gap, says Wu.
"Hopefully, with all of its expertise, this new centre will facilitate research into food-safety issues that have practical significance," says Zhuang Zhixiong, a toxicologist at the Guangzhou-based Sun Yat-sen University and chair of the Chinese Society of Toxicology. The centre could help to develop cheaper and simpler food-safety testing techniques, he suggests, which would help officials carry out more extensive food monitoring.
Unlike most Chinese government research agencies, the new centre will not be governed by a single ministry, says Wu, who is also head of the Key Lab of Chemical Safety and Health at the National Institute of Nutrition and Food Safety, part of the Chinese Centre for Disease Control and Prevention in Beijing.
Instead, it will answer to a board consisting of several ministries and administrations, including the Ministry of Health, the State Food and Drug Administration and the General Administration of Quality Supervision, Inspection and Quarantine. Wu believes that this arrangement will give the centre greater independence and the freedom to provide scientific advice across government.
Its broad remit should also allow it to assess food safety at all stages of production. Currently, each agency involved in food safety tends to take responsibility for a particular stage of the journey from farm to table. "This will require the evaluation functions of different ministries to be effectively combined," says Wu, who admits that there may be resistance from some ministries who want to retain control of food-safety research under their jurisdiction.
Related links
Related links
Related links in Nature Research
Related external links
About this article
Cite this article
Jia, H. China hopes research centre can quell food-safety fears. Nature (2011). https://doi.org/10.1038/news.2011.253
Published:

DOI: https://doi.org/10.1038/news.2011.253