Institution's president aims to boost quality, collaboration and commercialization.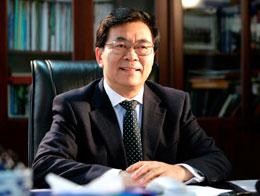 Last month, chemist Bai Chunli became president of the Chinese Academy of Sciences (CAS) in Beijing, after serving for six years as the academy's executive vice president. He talks to Nature about science in China and his vision for the prestigious institution.
What is the CAS's role in shaping science policy in China?
As the top think-tank for central government, the CAS advises on science policies and priority areas of research. In the past few decades, it has been instrumental in planning and instigating major initiatives, such as the establishment of scientific funding systems and major national research and development projects.
The CAS has also been a testing ground for reforms in policies and infrastructures. Under the Knowledge Innovation Program, for instance, reform and restructuring of the academy led to significant improvement in scientific output. And as part of Innovation 2020, the CAS will strive to boost national innovation capacity.
How will you deal with the relationship between basic research and applied science?
The CAS is committed to building a strong capacity for basic research, allowing for sufficient funding and research freedom. It will reduce the frequency of research evaluation while improving its quality; for research directly related to the public interest, evaluation will be based on national needs and socioeconomic benefits.
How will the CAS accelerate the conversion of basic research to products?
First, the CAS will strengthen its ties with the industrial sector by setting up joint research and development centres and working with industry on major national projects. We will house incubation programmes for promising business ideas.
Second, we will promote collaboration with provincial governments and set up regional research programmes. Finally, the CAS will establish incentives to encourage patents and their commercialization, and will improve its management and supporting infrastructure to better protect intellectual-property rights.
China's output of scientific papers has increased rapidly in recent years, but the impact of those papers is still relatively low. How do you propose to remedy that?
The quantity and quality of papers published by the CAS have increased significantly in the past decades — although, admittedly, the overall quality of papers in China needs to be improved. The CAS will continue to encourage its scientists to take on challenges in frontier research areas, and will support risky and long-term projects.
Meanwhile, our evaluation system, which is largely based on the number and quality of papers, will shift towards assessing the quality of innovation, its actual contribution to society and its state of development.
How do you want to cultivate the relationship between scientists in China and in the rest of the world?
The CAS will consolidate its collaborations with developed nations, and further promote cooperation with developing nations, especially China's neighbours. It will strive to set up long-term, strategic partnerships with first-rate research institutions, international science organizations and multinational research and development corporations. The CAS encourages its scientists to participate in international research projects and to take up positions in international organizations. We also warmly welcome scientists from other nations to visit and work in the academy.
There have been growing calls for reforms of the allocation and management of science funding. What is your position on that?
From a relatively low level, science in China has made significant progress in the past few decades. This is due to the efforts of the Chinese scientific community as well as government administrations.
There is certainly room for improvement in funding systems, but I see this as an integral part of social progression. Some funding agencies, such as the National Natural Science Foundation (NNSF), have offered excellent examples of success. The NNSF's emphasis on fairness and transparency and its democratic and meritocratic decision-making process should be universal to all funding bodies. I believe that, with further reforms, the allocation of science funding in China will become fairer and more transparent, and the standard and efficiency of funding management will be improved.
How will you strengthen the academy's policing of scientific fraud and misconduct?
In 2007, the CAS promulgated regulations for research behaviour, which provide the criteria for judging misconduct, the procedure for investigating allegations and the actions to be taken in case of proven wrongdoing. The key is to ensure sufficient oversight and to implement the regulation with greater coherence and forcefulness.
Meanwhile, we are considering setting up a compulsory course on research ethics in the CAS graduate school, introducing the basic principles and discussing misconduct cases in China and the rest of the world, so that the culture of accountability becomes ingrained from a young age.

Related links
Related links
Related external links
About this article
Cite this article
Qiu, J. Chinese Academy of Sciences has big plans for nation's research. Nature (2011). https://doi.org/10.1038/news.2011.180
Published:

DOI: https://doi.org/10.1038/news.2011.180