A therapeutic antibody is the first success in a wave of experimental therapies aimed at tackling the autoimmune disease.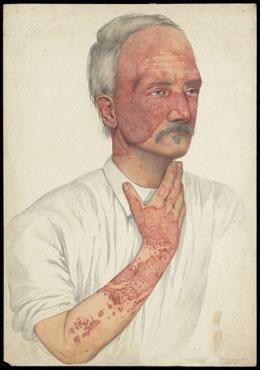 For more than 50 years, the autoimmune disease lupus has confounded drug developers. But a new therapy finally broke through that barrier yesterday when the US Food and Drug Administration (FDA) announced the approval of Benlysta (belimumab) for the treatment of systemic lupus erythematosus.
The greatly anticipated move heralded a step forward not only for belimumab's developers, but also for the many other experimental lupus therapies hot on the trail. "It's a very exciting time in lupus," says Richard Furie, a rheumatologist at the North Shore-Long Island Jewish Health System in New York, who has conducted clinical trials of belimumab. "There's an awful lot of activity right now."
Lupus is a mysterious disease in which the immune system attacks healthy tissues. Nearly all lupus patients experience some degree of joint pain, and some will face life-threatening complications including kidney failure, heart problems and difficulty in breathing.
Belimumab is an antibody that interferes with the immune system's assault by binding to and inhibiting a protein called the 'B-lymphocyte stimulator' (BLyS). Blocking BLyS is thought to cause the immune system's antibody-producing B cells to self-destruct, thereby reducing the body's ability to attack its own tissues.
Belimumab was developed by Human Genome Sciences, a biotechnology company based in Rockville, Maryland, together with London-based pharmaceutical giant GlaxoSmithKline.
Several companies have similar drugs in the pipeline, and are likely to be spurred on by belimumab's success, notes Furie. Before 2009, when data from two large, successful clinical trials of belimumab were released, no drug developed for lupus had ever made it through a phase III clinical trial. "It was a little hard for these programmes to raise money when all the studies were failing," says Furie. "People said, 'you're never going to have a positive study'."
Belimumab's success has lessened that stigma, Human Genome Science's vice-president David Stump told investors yesterday: "We have shown with Benlysta that the barriers that have existed for all of these years for drug development in lupus can be overcome."
BLyS was discovered in the middle of the genomics revolution of the late 1990s, as scientists at Human Genome Sciences trawled through the sequences of genes expressed in certain white blood cells. It was an exciting time, says David Hilbert, former head of research and discovery at Human Genome Sciences and now research head at Zyngenia, a biotechnology company in Gaithersburg, Maryland. "You'd sit there and watch new genes coming off the line every day and you didn't know what they were and what they did," he says.
Some researchers, including chemist Jonathan Hall of the Swiss Federal Institute of Technology in Zurich, see the success of belimumab as evidence that the often-criticized investments that many pharmaceutical companies made in genomics are beginning to pay off. "There's a lot more value in genomics to pharma than one gets the impression from reading articles in the press," says Hall, who spent a decade working in the genomics team at the Swiss drug-maker Novartis.
But when researchers at Human Genome Sciences realized that BLyS increased during inflammation, and was particularly high in lupus patients, they knew that they faced a difficult road ahead, Hilbert says. Drug developers had long struggled to conduct clinical trials in lupus patients. The disease is notoriously variable, with some patients experiencing only mild discomfort and others life-threatening complications. And lupus patients often take two or more drugs to control their disease. These other medications can mask the effects of an experimental drug in a clinical trial.
In 2008, a trial of a drug called atacicept, which binds both BLyS and a related protein, in patients with a severe form of lupus called lupus nephritis was halted as a result of an abnormally large number of infections in those taking the drug. And a clinical trial in lupus patients of the antibody ocrelizumab in patients with lupus nephritis, which targets B cells through a different mechanism, was similarly halted because of a large number of fatal infections in those under treatment. Some say these effects may have been brought about by the combination of the experimental drugs with those already used by the patients that also suppressed the immune system.
Those failures have not stopped progress on other BLyS-targeting drugs in early clinical development, including inhibitors made by Anthera, a biotechnology company based in Hayward, California, and Eli Lilly, a pharmaceutical company based in Indianapolis, Indiana. And some companies are pushing forward with therapies that target other proteins in the immune system. Amgen, based in Thousand Oaks, California, has two antibodies in phase I clinical trials in lupus patients. One targets T-cells, another type of white blood cell, by inhibiting a protein called B7-related protein; the other inhibits an important mediator of inflammation called interferon-γ.
There is likely to be room for these drugs in the lupus market, even in the wake of the belimumab approval. Keith Elkon, a rheumatologist at the University of Washington in Seattle, notes that belimumab had a relatively small impact on patients' symptoms. Also, it took two months after first taking the drug for patients to get relief from their symptoms, he says, which will do little to help those who come to their doctor in the middle of a serious flare-up of the disease.
Nevertheless, belimumab is an important step forward for lupus patients, Elkon says. "I'm excited," he says. "It's been such a struggle, and this is a major victory."

Related links
Related links
Related links in Nature Research
Related external links
About this article
Cite this article
Ledford, H. First lupus drug in half a century approved. Nature (2011). https://doi.org/10.1038/news.2011.150
Published:

DOI: https://doi.org/10.1038/news.2011.150