As the Gadaffi regime continues to massacre citizens, its repression also puts a rich cultural heritage at risk.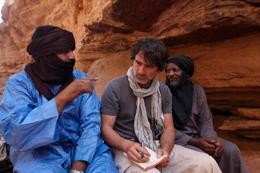 Eleven Italian researchers who were evacuated from Libya in a C-130 Hercules military aircraft on Saturday are thought to have been among the last foreign archaeologists in the country. With Libya's people being attacked by forces loyal to the regime of leader Muammar al-Gaddafi, the scientists were thankful to escape to an air-force base south of Rome.
The team of seven men and four women were from the Italian–Libyan Archaeological Mission in the Acacus and Messak, an expedition to research prehistoric archaeology and rock-art. They took temporary refuge in an oilfield camp in the open desert. Stress levels were high, explains Savino di Lernia, head of the team: "We were hundreds of kilometres from an airport, with the entire country to be crossed to reach it," he says. In a Twin Otter light aircraft, they had to make their way at short notice to Sebha airport in central Libya to rendezvous with the evacuation plane.
The situation has been tense since al-Gaddafi's forces launched a brutal repression of a popular uprising, leaving thousands of civilians dead and causing more than 100,000 people to flee the country, provoking a humanitarian crisis along its borders. The regime's crackdown and the resulting conflict — as well as subsequent chaos and risk of looting — also threatens ancient archaeological sites, as have recent uprisings in nearby countries (see Egyptians rally to defend cultural heritage).
Libya has an extraordinary archaeological heritage, says Paul Bennett, head of mission at the Society for Libyan Studies in London, who has spent much of the past 30 years working in Libya. He explains that the country has been a "melting pot" of cultures throughout history, and has sites of Punic and Roman remains to the west, Greek and Egyptian to the east and Berber to the south. There are also important prehistoric sites, including some of the world's earliest rock and cave art, and underwater archaeological sites along the Mediterranean coast.
The Gaddafi regime has been blocking the Internet and telephone systems in the country since the uprising, which has made it very difficult to get information on the current status of archaeological sites, say researchers. However, di Lernia managed to speak with Salah Agab, chairman of the Libyan Department of Antiquities, and other department staff on 28 February, and says their understanding is that the situation is currently under control and that all museums and sites are safe. Nature was unable to reach Agab directly.
Libya is home to five World Heritage sites, designated by the United Nations Educational, Scientific and Cultural Organization (UNESCO): the ancient Greek archaeological sites of Cyrene; the Roman ruins of Leptis Magna; the Phoenician port of Sabratha; the rock-art sites of the Acacus Mountains in the Sahara Desert; and the old town of Ghadamès, an oasis city that has been home to Romans, Berbers and the Byzantine civilization. Security is good in these areas, says di Lernia, but may be "problematic" elsewhere.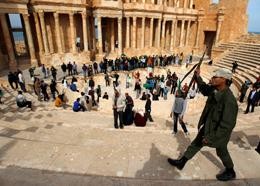 The capital city, Tripoli, remains tightly controlled by Gaddafi's heavily-armed forces, who this week launched counterattacks against nearby cities controlled by protestors. Despite the security presence, important sites in this northwestern region, such as Sabratha, are "really endangered", says di Lernia.
Tripoli itself is home to two major museums, both reportedly safe at present. The national Jamahiriya Museum holds important prehistoric collections, including the oldest known African mummy, from Uan Muhuggiag in the Libyan Sahara. The museum is also housed in the ancient Red Castle of Asaraya al-Hamra, itself a heritage site. The Museum of Libya, meanwhile, contains noteworthy Greek and Roman collections.
After Libya gained its independence from Italy in 1951, its rulers neglected archaeological research and sites, largely because they associated the field with the colonial period. Over the past decade, however, archaeology has bloomed in Libya, says Bennett, with more international missions allowed into the country.
That has partly been a result of Libya's transition from an international pariah, linked with terrorism, to a political and commercial ally of the West. But the resurgence also owes much to the country's growing awareness of the importance of its cultural heritage — and the tourism potential that it brings, says Bennett. That same opening-up also has a downside, however: for example, recent rampant development of the oil industry, construction, and agriculture also threatens the country's cultural heritage and archaelogical sites1.
The conflict has brought joint international–Libyan archaeological work to a standstill, and uncertainty surrounds future missions. There are thought to have been around 20 international missions in Libya, each comprising around a dozen or so archaeologists. All are now thought to be safely outside the country, having taken commercial transport home, been evacuated or taken refuge in nearby countries.
Researchers have little idea of when they will be able to return. Vincent Michel, an archaeologist at the University of Poitiers in France who has a decade's experience of working in Libya, is part of a French archaeological mission that was scheduled to leave next month for the ancient Greek Apollonia site on the Mediterranean coast. That venture has now been suspended. Di Lernia's mission — itself a legacy of the colonial period — began in 1955 and is the longest-running international mission in Libya, but now he no longer knows "if and when the mission will be able to work in the area".

References
Bennett, P. and Barker, G., Afr. Arch. Rev, 2011. doi: 10.1007/s10437-010-9085-x
Related links
Related links
Related links in Nature Research
Related external links
About this article
Cite this article
Butler, D. Libya's 'extraordinary' archaeology under threat. Nature (2011). https://doi.org/10.1038/news.2011.132
Published:

DOI: https://doi.org/10.1038/news.2011.132