Lawmakers attempt to sidestep the Endangered Species Act.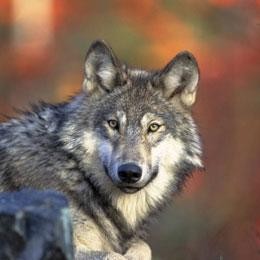 Robert Millage had heard the howls of wolves in the area the day before, so he knew where to wait. As the sun rose, and the howls rang out again, he blew on his hunter's call, emitting a sound like a coyote in distress. Fifteen minutes later, a two-year-old she-wolf strode into the clearing. "You don't have a lot of time to think," says Millage, an estate agent in Kamiah, Idaho. He raised his rifle and shot. "She went down in her tracks," he says.
Millage's hunting trip was in September 2009, a few months after most of the west's wolves were taken off the US government's list of endangered species.
That decision was taken within the framework of the Endangered Species Act, but was overturned by a federal judge. Now, lawmakers are trying to delist the wolves again by legislative fiat — sidestepping both the act and, conservation biologists fear, the science.
The attempts to remove the wolf a second time come in response to an August 2010 federal court ruling that stated that Northern Rocky Mountain wolves should go back on the endangered species list. The US Fish and Wildlife Service had delisted wolves in all states except Wyoming, which had promised to allow its residents to shoot the canids on sight rather than in a regulated hunting season as in the other states. But the judge said the act had to be applied to the population as a whole, without making exceptions for some states.
The court's decision did not go down well in the west. In some western states, such as Idaho, Montana and Utah, many people feel as if they are overrun with wolves, which they see as a threat to both livestock and humans. "Rural people feel like they've been stepped upon. We feel like we are a big experimental zoo for the feds," says Millage.
So, members of Congress have tried to shortcut the sometimes ponderous Endangered Species Act process by simply passing a law to delist wolves.
Although no species has yet been successfully delisted in this way, there were attempts to delist the wolves in the last days of the 111th Congress, from both Republican and Democratic lawmakers, but they were attached to an appropriations bill that never passed. Now, Montana Democrat senators Max Baucus and Jon Tester have proposed another delisting bill. And a reinstatement of the 2009 delisting rule has been attached to an 11 February Republican-drafted 'continuing resolution' that would keep the federal government running until the 2011 budget is passed. Whether the amendment will survive to become law remains to be seen.
"There definitely is a real threat the legislation will pass," says Noah Greenwald, endangered-species programme director at the Center for Biological Diversity in Portland, Oregon. "From our perspective it would be a terrible precedent. We believe it is a scientific decision that should be made by the agency."
Secretary of the Interior Ken Salazar has been sympathetic to states that feel they have a wolf problem. He signed-off on the delisting of wolves in 2009 and, in November 2010, he met with the governors of Idaho, Montana and Wyoming, saying "I appreciate that the governors share our goal to delist the species with a responsible approach guided by science." He is also interested in delisting a separately managed population of wolves in states including Michigan, Minnesota and Wisconsin, which also want to right to manage their wolf populations.
Meanwhile, the states continue to hope for a delisting law. "We are working hard with our congressional delegation on some kind of legislative fix," says Jon Hanian, spokesman for the governor of Idaho. "Stay tuned."
Any such legislation will have to move forward without the aid of incoming chairman of the House Committee on Natural Resources, Republican congressman Richard "Doc" Hastings. His press secretary says that Endangered Species Act matters are "not a big priority" for Hastings and that the wolf matter is best handled at the state level.
The courts will be busy with wolves as well. Greenwald says that although Idahoans may feel up to their necks in wolves, there is a national paucity of the species. The Center for Biological Diversity and other green groups intend to sue the Department of the Interior, which administers the Endangered Species Act, in March for failing to produce a unified recovery plan for the grey wolf. Western wolves are covered by the 1987 Northern Rocky Mountain Wolf Recovery Plan, a hangover from an era when US grey wolves were thought to be composed of a number of subspecies. It doesn't cover the rest of the country's wolves.
Besides, Greenwald says that today's scientists would be likely to call for more than the plan's current goal of saving 300 wolves for the entire west. "We've learned a lot more about wolves and population viability since the 1980s," Greenwald says.

About this article
Cite this article
Marris, E. US states strive to cull grey wolves. Nature (2011). https://doi.org/10.1038/news.2011.106
Published:

DOI: https://doi.org/10.1038/news.2011.106