Report suggests that efficiency gains could be overwhelmed by rising demand.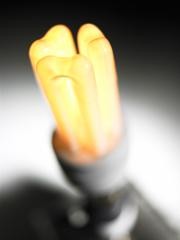 Increasing energy efficiency is generally considered a no-regrets policy — a fast and cheap way to reduce energy use. But a new report is set to upset this quiet consensus by suggesting that the 'rebound effect' that negates some of the gains is often much larger than commonly thought.
The idea is simple. A drop in energy consumption means a drop in pollution, and the upfront capital investments eventually pay for themselves through lower energy bills. But the savings can also encourage people to use more energy — a classic example involves consumers buying more fuel-efficient vehicles and then driving them more frequently because they are cheaper to run. Such feedbacks are well known and generally considered to be minor — around 10% of the original gains in the automobile scenario.
But a report from the Breakthrough Institute, an advocacy group based in Oakland, California, that is pushing for huge government investment in clean-energy technologies, suggests that various types of rebound effect could negate much, if not all, of the emissions reductions gained through efficiency. Energy efficiency should still be pursued vigorously as a way to bolster the economy and free up money for investments in low-carbon technologies, the institute says, but rosy assumptions about emissions reductions should be treated with caution.
This message has angered some researchers, and prompted others to plan a meeting of minds in the hope of setting the record straight. In many ways, it is an academic dispute that centres on theoretical questions about the role of energy in driving local and global economies, but the implications for policy-makers are very real.
"A lot of people have made their lives around believing you can have it all," says Ted Nordhaus, chairman of the Breakthrough Institute. Nordhaus says energy efficiency is important but must be kept in context so as not to underestimate the challenges ahead. "From a climate perspective, we are unlikely to drive significant reductions in carbon emissions through energy efficiency."
But experts on energy efficiency have lined up to point out the ways that the institute's analysis falls short, questioning everything from its basic assumptions to the economic model that one of the key studies — as yet unpublished — is based on. "It looks like the stuff I've been hearing for years from the energy industry and the car industry," says Lee Schipper, a senior research engineer at Stanford University's Precourt Energy Efficiency Center in California.
There are both direct and indirect rebounds. The automobile fuel-efficiency example is a direct feedback. A simple indirect effect would be the additional energy used to manufacture and install energy-saving equipment. But could government regulations requiring that refrigerators are made more efficient bring about such demand that the original gains are reversed?
Schipper says that making any given technology or the economy at large more efficient liberates money that can be reinvested elsewhere. And as prices come down, for any number of reasons, technologies disperse. If cumulative energy use goes up, that is a measure of population and economic growth, he says, and we can't assume that it wouldn't have gone up even more without increased energy efficiency.
In addition, there is evidence that boosting energy efficiency can cut cumulative energy use. If the United States were using 1970s technology in today's economy, for instance, energy use would be roughly double what it is now, says Skip Laitner, director of economic and social analysis at the American Council for an Energy-Efficient Economy in Washington DC.
Laitner is working on an analysis showing that the United States could reduce its cumulative energy consumption by roughly 25% and at the same time nearly triple the size of its economy by 2050, if it deployed energy-efficiency measures across the economy in a coordinated way. This would mean roughly doubling the historical rate of energy-efficiency gains from 1.5% to 3% per year, which has been accomplished over short periods in the past.
In such a case, it wouldn't matter if a homeowner used the savings on cheaper energy to purchase other devices that use energy, because the entire economy would be becoming more energy efficient. And if that drove down the price of efficient technologies and spurred demand in the developing world, that would be a good thing for global development.
From this perspective, the goal of boosting energy efficiency is to increase wealth and drive economic development, Laitner says. "Economic productivity is in fact tied to our ability to productively use energy," he says. "If we don't increase energy efficiency, the economy is going to be less robust."

Related links
Related links
Related external links
About this article
Cite this article
Tollefson, J. Experts tangle over energy-efficiency 'rebound' effect. Nature (2011). https://doi.org/10.1038/news.2011.101
Published:

DOI: https://doi.org/10.1038/news.2011.101