Dialogue is key to dealing with extremism, say panellists on both sides of debate.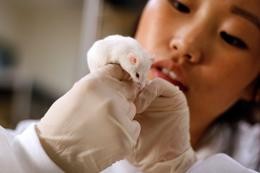 Scientists in the United States must publicly discuss the merits of animal research if they are to win over the public and neutralize the threat from activists. That was the view of animal-research supporters at a landmark panel discussion yesterday, which saw them come face to face with anti-vivisectionists at the University of California, Los Angeles (UCLA).
In recent years, University of California scientists have faced threats of violence from animal-rights activists, with firebomb incidents at the Los Angeles and Santa Cruz campuses. But Colin Blakemore, a neuroscientist at the University of Oxford, UK, and a vocal supporter of animal research who has faced numerous attacks from activists, said that scientists in the United Kingdom have made progress in dealing with the problem by engaging with the media and the public.
"The only way to breakthroughs is to have the courage to be open," Blakemore told Nature.
But examples of such dialogue have been few and far between in the United States.
"Scientists for a long time have not fulfilled society's expectations of being fully engaged about what they're doing," said J. David Jentsch, a UCLA neuroscientist and founder of the UCLA Pro-Test for Science animal-research advocacy group, before the event. "We really felt the time was ripe."
Jentsch and Pro-Test for Science co-sponsored the event with UCLA animal-rights group Bruins for Animals. The goal was for both sides of this ethical divide to sit down for a calm discussion, and to show the non-violent face of the animal-rights movement. Three panellists supporting animal research, and three speakers opposed to at least some of its facets, spoke to an audience of UCLA staff and students.
However, the difficulties in opening up the animal-experimentation debate were underlined by the tight security at the venue. Safety concerns forced the organizers to restrict attendance to UCLA students and personnel.
"It's difficult to have this happen in an open way when every day I have to look under my car," said Dario Ringach, a UCLA neuroscientist and member of the Pro-Test group.
Although the event occurred without incident, the divide that separated the camps was evident. Ringach, for example, said that the contributions of animal research to medicine were "undeniable" — but others questioned that assessment.
Niall Shanks, professor of the history and philosophy of science at Wichita State University in Wichita, Kansas, said that toxicology studies in animals frequently fail to accurately predict human responses. Shanks is vice-president of Americans for Medical Advancement, a non-profit organization based in Goleta, California, which opposes the use of animals as predictive models and aims to define the scientific issues in animal research. He claimed that thalidomide, an antiemetic used in the late 1950s that caused birth defects when taken by pregnant women, is only "occasionally" harmful to embryos in many animal species.
Anaesthesiologist Ray Greek, president of Americans for Medical Advancement who spoke in opposition to animal research, presented data showing that the vast majority of animal research does not lead to cures for human diseases. Ringach countered that it is impossible to predict where basic research will lead.
Animals' rights matter, said Janet Stemwedel, a philosopher at San José State University in California who supports animal research, but pointed out that "our duties to humans are stronger". Robert Jones, a philosopher at California State University in Chico, disagreed, calling the distinction between our duties to animals and humans a "false dichotomy".
The organizers plan to sponsor more events in the future, and hope that other universities and organizations will do the same. It's a hope that was shared by all the panellists. "Nobody loses if you have dialogue," said Greek.

Related links
Related links
Related external links
About this article
Cite this article
Dance, A. UCLA brings together animal-research factions. Nature (2010). https://doi.org/10.1038/news.2010.78
Published:

DOI: https://doi.org/10.1038/news.2010.78