Advocates for indigenous tribes are urging London's Natural History Museum to cancel an imminent trip to Paraguay.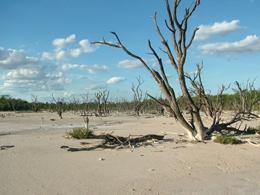 Despite heated protests, scientists at the Natural History Museum in London (NHM) set off today for Paraguay's remote Dry Chaco region.
Their aim is to catalogue the plants and animals in this rare habitat, which is under threat from logging. But their expedition has sparked a row that highlights the tensions between the needs of conservation science and the rights and wishes of isolated indigenous peoples.
The Ayoreo Indians are a self-isolated tribe who live in the Dry Chaco and number fewer than 200 individuals. Groups claiming to represent them have called on the NHM to cancel its trip over worries that researchers might come into contact with the Ayoreo. Museum scientists, meanwhile, say that they are taking appropriate steps to prevent inadvertent contacts and that they have the backing of an Ayoreo group.
The Dry Chaco, which extends into Bolivia and Peru, is the largest dry forest in South America and is home to hundreds of species of birds, mammals and other animals, as well as thousands of plant species.
The controversy erupted into public view this week, when media outlets reported the concerns of Iniciativa Amotocodie, a non-governmental organization based in Filadelfia, Paraguay, that remotely monitors the Ayoreo. The director of the group, anthropologist Benno Glauser, warned that it could be "tantamount to genocide" if Ayoreos come into contact with expedition scientists.
Richard Lane, scientific director at the NHM, emphasizes that the 60-person expedition has taken the necessary steps to prevent contact with Ayoreos. "It's an issue we're very much alive to. People who wish to remain uncontacted have the right to stay that way," he says.
NHM and its Paraguayan partner on the expedition, a conservation group called Guyrä, have received the blessing of an organization called Unión de Nativos Ayoreos de Paraguay (UNAP), which represents Ayoreo people who are settled in the wider community. The group will also send along an Ayoreo guide. "His role is to go ahead of the expedition into the forest to ensure that there is no chance of us accidentally coming into contact with these uncontacted groups, and that we find reassuring," says Lane.
However, Seth Reynolds, a spokesman for Iniciativa Amotocodie, says such measures do not go far enough and that uncontacted Ayoreo are more likely, not less, to approach a guide of Ayoreo ethnicity. "There are no half measures with protecting indigenous territories. If you go in with an expedition of 60 people then you run the risk of contact," he says.
Iniciativa Amotocodie sent a letter to the NHM dated 27 October warning that the expedition will come close to areas where it has found evidence for recent habitation by Ayoreo. The group also worries that near encounters with expedition members could cause the Ayoreo to abandon temporary settlements set up to tend seasonal crops and could result in food shortages.
"Clearly other people think the only thing you can do is not go there, and that's a different sort of view," says Lane.
Guillermo Terol, an adviser to the Wildlife Conservation Society in Paraguay, says the settled Ayoreo community is split over the NHM expedition. In a letter to the president of Paraguay and other officials on 25 October, a group of nine Ayoreo leaders condemned the expedition. However in an undated, handwritten letter to Paraguayan officials, UNAP reiterated its support for the expedition.
Avecita Chicchón, director of the Latin America and Caribbean programme at the Wildlife Conservation Society in New York, says that the NHM and Guyrä should have gained broader support before beginning its expedition. "I am a little bit sad that we haven't learned to work together yet," she says. "I think that conservation scientists need to work much more closely with indigenous peoples and indigenous advocates."
Moreover, Chicchón says that conservation biologists who enter the territories of uncontacted people should consult groups like Iniciativa Amotocodie to avoid potential encounters. Once an expedition begins, scientists should also make contingency plans to leave the area, in case any contacts or near contacts occur, she says.
Kim Hill, an anthropologist at Arizona State University in Tempe who has worked extensively in Paraguay, says it is "extremely unlikely" that the NHM expedition will come into contact with Ayoreo people, but he expects that contact with someone is bound to happen sooner or later.
Before that occurs, Hill would like to see agreements in place granting land protections to the Ayoreo. "I don't think the scientists have any business in there right now. It's premature for them to be going into this area."

Related links
Related links
Related external links
About this article
Cite this article
Callaway, E. Conservation expedition sparks international row. Nature (2010). https://doi.org/10.1038/news.2010.610
Published:

DOI: https://doi.org/10.1038/news.2010.610