Promising therapies in limbo after donor money runs out.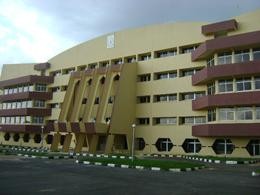 Research has ground to a halt at a Nigerian institute that develops traditional herbal remedies into drug candidates, after it failed to secure the funding it expected this year. Scientists are now urging the Nigerian government to provide the financial support needed to save their research programmes.
The National Institute for Pharmaceutical Research and Development (NIPRD), based in Abuja, has already developed a potential therapy for sickle-cell disease and has encouraging results for compounds to treat malaria and tuberculosis.
But a key grant from the US National Institute of Allergy and Infectious Diseases (NIAID) has run out and Nigeria's Ministry of Health has failed to deliver an expected increase to its contribution. As a result, research on all three drugs has largely come to a standstill.
The 49 million naira (US$325,000) the NIPRD received this year from the health ministry is not enough to cover the institute's annual running costs of 265 million naira, says Karniyus Gamaniel, director general of the NIPRD.
The institute also received 70 million naira from the ministry in 2010 for capital projects, but this falls short of the more than US$2 million needed to buy equipment and for other infrastructure projects.
"There are lots of things we don't do because we have no money," Gamaniel told Nature. For instance, the institute needs 50 million naira in addition to its running costs to mount an 800-patient phase III clinical trial on its anti-malaria drug.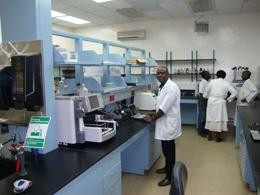 In addition, one of the institute's flagship laboratories, set up in 2005 with a grant of US$25 million from NIAID, is lying idle. NIPRD needs about US$180,000 a year to cover maintenance costs and ensure a constant supply of electricity, Gamaniel says.
Joseph Okogun, a consultant phytochemist for NIPRD, says that without funding for this lab they cannot carry out essential analyses of the structures of chemical compounds in their tuberculosis drug candidate, which is a mix of herbal extracts that have been shown to slow the growth of the tuberculosis bacterium.
"If funded, maybe in six to ten years time we might get something developed into a drug," says Okogun.
Scientists contacted by Nature have been particularly dismayed by the effects of the funding problems on efforts to test Nicosan (niprisan), the institute's potential treatment for sickle-cell anaemia — a genetic disease affecting about 4 million people in Nigeria's population of 150 million.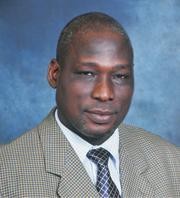 Patients with the disease have 'sickle'-shaped red blood cells that can clump together to block blood vessels, causing strokes or pain. Based on West African plant extracts, Nicosan appeared to slow the clumping of blood cells in lab tests1 and early trials of the drug in patients suggested that it relieved some of the painful symptoms of the disease2.
Nicosan was being produced in the country by the Nigerian subsidiary of US chemical company Xechem International. But last year, the company closed its factory and despite promises by the Nigerian government that it would restart production, the drug is currently unavailable.
Although the results of phase III clinical trials with Nicosan, funded by NIPRD, have not been published, Gamaniel admits they were "inconclusive". But financial constraints have hindered NIPRD from doing more phase III trials of the drug, he says.
Marie Stuart, a professor of paediatrics and haematology at Thomas Jefferson University in Philadelphia, Pennsylvania, says that since the sickle-cell drug hydroxyurea was marketed nearly two decades ago, the list of drugs able to treat the symptoms of the disease has been "abysmally short to nonexistent".
"Nicosan is an oral agent with what appears to be minimal toxicity," Stuart says. Getting good phase III trial data is the "crucial next step", she adds.
Gamaniel says they are negotiating for additional funding from the Nigerian health ministry.
But Umar Bindir, the director general of Nigeria's National Office for Technology Acquisition and Promotion, believes that their chances of success are slim.
Ministries cannot fund any institute in excess of a yearly cap, fixed by the ministry of finance, he explains.
"It doesn't matter what you have as an institution and how important you are, the ceiling doesn't change and it's not good for R&D," says Bindir, who urges NIPRD to look for other sources of funding. "NIPRD has to intensify its own efforts by doing contract research for industry and submitting proposals to institutions such as the African Union and the European Union."

Gamaniel says they plan to do exactly that — the institute is drafting a proposal for funding which will be submitted to the World Bank and the Global Fund to Fight AIDS, Tuberculosis and Malaria. "I am very optimistic," Gamaniel says, adding that much of the funding will be used to upgrade the institute's laboratories so that they can push forward work on their drug candidates. "I believe that it is a matter of communicating the facts of this intention to the bank."
Related links
Related links
Related external links
About this article
Cite this article
Ndhlovu , DF. Funding woes afflict African herbal therapy institute. Nature (2010). https://doi.org/10.1038/news.2010.602
Published:

DOI: https://doi.org/10.1038/news.2010.602