Test scans of the abdomen and brain show high rates of abnormalities.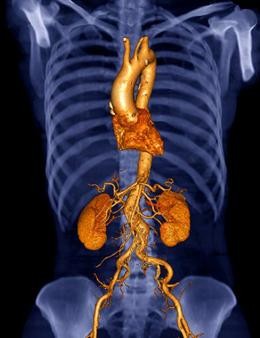 People may volunteer for a study simply to advance science, but a large fraction of them could wind up receiving unnerving news. A paper published today1 reports finding that 40% of participants in imaging experiments had clinical anomalies beyond the scope of the investigation, and that, of these cases, 6% provoked subsequent medical intervention.
Radiologists at the Mayo Clinic in Rochester, Minnesota, appraise images from research examinations daily and report any potential problems that they spot to physicians. An expert panel of physicians, radiologists and bioethicists assessed the benefits and burdens of radiologists' findings for research examinations taken over three months in 2004 by studying individuals' medical records over a follow-up period of three years. Out of a total of 1,426 examinations, 567 revealed at least one anomaly, and the total tally of anomalies across this subset was more than 1,000.
Similar rates of incidental findings have been reported for imaging experiments in the past, as pointed out in the paper by lead author Joel Fletcher and his team at the Mayo Clinic. However, the authors say this latest study is different from most previous studies because the researchers also compared the prevalence of anomalies among techniques and parts of the body. In addition, they assessed whether or not subsequent treatments helped patients.
Of the 567 volunteers for whom anomalies were identified, 35 underwent additional medical tests or procedures, including surgery. Only six patients improved after interventions, such as surgical resection of masses, and three patients did not improve or worsened. Whether there was any benefit to the remaining 26 patients remains unclear.
Aberrations were most common in computed tomography (CT) examinations of the abdomen, pelvis and thorax, followed by magnetic resonance imaging (MRI) scans of the head. With CT scans of the abdomen and pelvis, about 60% revealed abnormalities such as hardening of the arteries, pouches in the colon and cysts in the kidneys, and 9% led to the individual receiving medical attention. Meanwhile, with MRI scans of the head, more than 40% showed defects, and 2% led to further assessment. By contrast, ultrasonography, plain-film radiography and nuclear medicine tests prompted no follow-ups. Only 1% of examinations with incidental findings led to follow-up procedures that clearly helped patients.
The study has obvious limitations. The authors did not determine, for example, whether diagnoses triggered by incidental findings led to better outcomes than clinical evaluations spurred by symptoms. And they didn't estimate the emotional impact on patients, or the costs of interventions.
In any case, paying radiologists to inspect study images on the off-chance may not be practical at non-medical research institutions, says Peter Bandettini, an expert in functional imaging at the National Institutes of Health in Bethesda, Maryland.
But knowing which tests most often uncover clinically important anomalies could help research committees to set guidelines and allocate resources, he adds. "But it's premature to have a standard overarching protocol, because the benefits of screening are still debated," says Bandettini.

References
Orme, N. M. et al. Arch. Intern. Med. 170, 1525-1532 (2010).

Illes, J. et al. Science 311, 783-784 (2006).

Wolf, S. M. et al. J. Law Med. Ethics 36, 219-248 (2008).
Related links
Related links
Related links in Nature Research
Related external links
About this article
Cite this article
Weaver, J. Surprise diagnoses for research volunteers. Nature (2010). https://doi.org/10.1038/news.2010.496
Published:

DOI: https://doi.org/10.1038/news.2010.496