Amid rumours of cuts, Spanish researchers face a tense wait before the next budget announcement.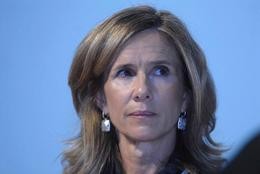 A nerve-wracking period looms for Spain's research community. At some point in the next three weeks, the government will announce a budget that could, following last year's 15% cut, shave yet more off researchers' slice of the pie. Last Sunday, the Spanish daily El País leaked news of a further 10% cut. Meanwhile, rumours abound that science minister Cristina Garmendia is thinking of resigning, and that her ministry may be absorbed by those of education or industry.
Garmendia denied the cuts in a speech in parliament on Wednesday, stating that her ministry is working on a draft budget "close to that of 2010" — that is, a funding freeze. She also declared that she is "absolutely committed" to the ministry's projects. However, scientists remain worried.
"Further cuts would cause irreversible damage to the Spanish R&D system," says Joan Guinovart, president of the Confederation of Spanish Scientific Societies (COSCE), which represents 30,000 researchers. "A sense of helplessness is spreading among scientists," says Jesús Avila, a biologist at the Severo Ochoa Centre for Molecular Biology in Madrid and one of 51 concerned life scientists who signed an open letter to the government after last year's budgetary shock.
A sense of helplessness is spreading among scientists. Jesús Avila , Severo Ochoa Centre for Molecular Biology, Madrid
It is unclear whether Prime Minister José Luis Rodríguez Zapatero backs Garmendia's intention to freeze the science budget, while other sectors will be cut. "Freezing is the scenario we are working on in the ministry," says Felipe Pétriz Calvo, secretary of state for research, "but at the moment it is hypothetical."
On Thursday, education minister Ángel Gabilondo, former rector of the Autonomous University of Madrid, said in a press conference that in relation to the education ministry absorbing the science agenda, he would be ready for that to happen, speaking "as a professor", but such a move does not depend on him "as a minister".
"A choice of this kind is in the hands of the president," commented Pétriz Calvo, adding that the science ministry is currently very busy: "I see a lot of projects running in the ministry, like 18 regulations, an agency and several other bodies derived from the 'science law'."
The science law – a new bill to create an array of initiatives, including an autonomous funding body to manage competitive grants – has been one of Garmendia's priorities since 2008. The new bill aims to update the first, mooted in 1986.
Twenty-year transformation
Spain's transformation from bit player to contender in the research world has taken just two decades. Since the first science law was approved, Garmendia said in her Wednesday address to parliament, public investment in research in Spain has increased 14-fold. In 2008, all seemed bright for science when the re-elected socialist government announced that it wanted to push for innovation. "The socialist government sparked enthusiasm then, when it created a ministry dedicated to science and appointed Garmendia [as its head]," says Guinovart. Garmendia, a molecular biologist, had left a career in the biotech industry to take up the government post.
But clouds soon started to gather. An editorial in Nature in late 2009 suggested that Garmendia's lack of political experience meant that the ministry had been slow to develop, and the government was slow to pursue the national vision for science when global recession began to bite (see 'No turning back'). Two years after it was announced, the science law — originally meant to help in creating a new model for research funding and career paths — is still being debated in parliament.
In April 2009, governance of universities was switched from the science ministry to the education ministry. When the new budget for 2010 was announced, the cuts to science effectively amounted to 15%, as an analysis by COSCE showed in February 2010. In March, scientists took to the streets of Madrid in protest.
Spanish science is already feeling the blow. Research institutions depending on the ministry have suffered up to a 30% reduction in government contributions since 2008. "These institutions have got by this year, cutting equipment and maintenance, and burning their remaining rollover funds," explains Guinovart.
"The number of new contracts and fellowships must have been affected as well, although this is difficult to prove," says Salomon Aguado, spokesperson for the Federation of Young Scientists, one of the organizers of the March protest.
Pétriz Calvo says, however: "Human resources is one of our main commitments. For example, the number of PhD fellowships depending on the ministry has not decreased this year." The expected number of 'Consolider' networks of excellence, he adds, has been maintained.
"Confirming cuts would be like forcing a low-calorie diet on a debilitated patient," says Guinovart. Even the best-case scenario will be difficult. "Centres cannot count on using rollover funds anymore," admits Pétriz Calvo, "so other instruments will be necessary in 2011."
Says Guinovart, "The lack of opportunities may sweep away excellent seniors and talented juniors — the more valuable and volatile scientists. On what will we base our development, if not on knowledge?"

Related links
Related links
Related links in Nature Research
Related external links
About this article
Cite this article
Catanzaro, M. Spain's science budget could be slashed. Nature (2010). https://doi.org/10.1038/news.2010.480
Published:

DOI: https://doi.org/10.1038/news.2010.480