Move demanded by publisher would 'utterly destroy' Medical Hypotheses.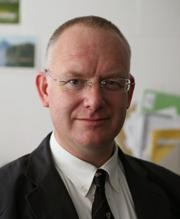 The editor of what is perhaps the world's most controversial medical journal has pledged to resist attempts by its publisher to implement radical changes to its approach.
Bruce Charlton, who is professor of theoretical medicine at the University of Buckingham, UK, has staunchly defended his journal, Medical Hypotheses, saying that it has for 35 years followed "a radical and dissenting agenda" and "tries to favour unfashionable and unpopular views".
The journal's publisher Elsevier is seeking major changes to Medical Hypotheses in the wake of a furious row over the publication last year of a paper claiming that there is no proof that HIV causes AIDS. A key part of these changes will be to implement peer review in place of the current editorial review.
Elsevier also says there will be "especially careful review" of potentially controversial articles.
Elsevier plan to continue a zombie Medical Hypotheses. ,
But Charlton claims that this "would utterly destroy Medical Hypotheses", and he insists that he will neither resign nor assist with the proposed reforms, as demanded by Elsevier.
"Elsevier plan to continue a zombie Medical Hypotheses — i.e. still moving around, but dead inside," he told Nature. "I have requested that they do the honest thing and kill the journal outright. I would rather Medical Hypotheses existed in its pure form for 35 years than that it has a dwindling and corrupt afterlife."
Medical Hypotheses was established in 1975 by entrepreneur David Horrobin, who wrote at the time1, "The history of science has repeatedly shown that when hypotheses are proposed it is impossible to predict which will turn out to be revolutionary and which ridiculous. The only safe approach is to let all see the light and to let all be discussed, experimented upon, vindicated or destroyed."
They were withdrawn because of our concern that the papers could potentially be damaging to global public health ,
Horrobin was himself a controversial figure and a promoter of the health benefits of evening primrose oil. His obituary in the British Medical Journal provoked debate among doctors for saying that he "may prove to be the greatest snake oil salesman of his age"2.
His journal's latest — and possibly fatal — brush with controversy follows the publication of a paper by Peter Duesberg at the University of California, Berkeley, and colleagues. This argued that "there is as yet no proof that HIV causes AIDS"3.
After receiving a raft of complaints, Elsevier had the article peer reviewed under the oversight of editors from The Lancet. Following the peer review, the article, and another by Marco Ruggiero of the University of Florence in Italy4, was withdrawn and a reform of the journal was mooted.
"They were withdrawn because of concerns expressed by the scientific community about the quality of the articles, and our concern that the papers could potentially be damaging to global public health," the publisher said in a statement.
The article also triggered a letter from a number of leading HIV researchers to the US National Library of Medicine. This called for the journal to be deselected from inclusion in the MEDLINE database on the grounds that it was "of low quality, lacking the proper oversight of peer review or even responsible editorial review".
The authors claimed that their analysis showed that the journal published submissions "almost immediately, with no evidence of any changes suggested or required". Analysis of 48 articles from one issue of the journal found the median time between submission and acceptance of a paper to be three days, they said.
This journal has published 'hypotheses' that are regrettable. ,
Robert Doms, one of the signatories to that letter and a microbiologist working on HIV at the University of Pennsylvania School of Medicine in Philadelphia, says: "I have no issue with the concept of medical hypotheses per se, but whenever a journal provides a forum in which literally anything can be published without review in a publication that is backed by a major publishing firm, this provides to some degree an aura of authority to the lay public."
Nature also publishes hypothesis papers, but these are peer reviewed. "Occasionally, someone has an original and untested but testable idea about how the world works and Nature views such ideas as part of its territory," a statement issued by the journal said. "But the ideas do have to be unusually strong and significant to qualify."
Elsevier has confirmed that Charlton's contract will not be renewed when it expires at the end of the year. "We have made this decision in light of Professor Charlton's continuing refusal to accept our invitation to meet and consult on the proposed changes to the journal," the publisher said.
For his part, Charlton says he will respond by 22 March, as the original deadline of 15 March was "a ridiculously short time to consider my options".
He also says that he has received more than 150 letters of support. "We have seen the destruction of the last non-peer-reviewed journal — the only one outside the normal power structures of science," he told Nature. "It has now been shown that no editor, no journal, is any longer free to publish dissenting views such as those of Duesberg. This is something new to science, indeed it is not science at all — as science was done in its golden age."
Others disagree with his interpretation. "As noted in our letter, this journal has published 'hypotheses' that are regrettable," says Doms. "I do not think that the medical community will lose anything if the journal does not continue in its current form."

References
Horrobin, D. Med. Hypoth. 1, 1-2 (1975).

Richmond, C. Br. Med. J. 326, 885 (2003).

Duesberg, P. H. et al. Med. Hypoth. doi:10.1016/j.mehy.2009.06.024 (2009).

Ruggiero, M. et al. Med. Hypoth. doi:10.1016/j.mehy.2009.06.002 (2009).
About this article
Cite this article
Cressey, D. Editor says no to peer review for controversial journal. Nature (2010). https://doi.org/10.1038/news.2010.132
Published:

DOI: https://doi.org/10.1038/news.2010.132