How would research change under a centre-right government?
As politicians in the United Kingdom gear up for next year's general election, bad memories of cuts to the science budget imposed by the last Conservative government (1979-97) are beginning to flood back to the nation's scientists. In the run-up to the Conservative Party's annual conference, at which delegates will discuss future policies, Nature asks Adam Afriyie, the party's science minister, what scientists can expect if the Conservatives win power.
What commitments for science can we expect from a Conservative Party manifesto?
We see science coupled with innovation as key to dragging Britain out of recession and into recovery. The United Kingdom has been sliding down the world economic tables of competitiveness. This tells me we have a gap between great research and the conversion of that research into employment, policies and jobs. We will be looking at how to plug that innovation gap.
Will the Conservatives publish a discussion document outlining the party's science policies before the election?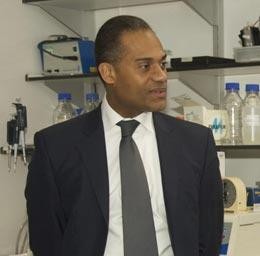 We have done a lot of work in this area but with the very changeable times we are living in I can't tell you when we will publish those ideas or in what form. But what we have done as a party is made a commitment to science literacy lessons for incoming Conservative parliamentary members and to a 'future fund' for financing high technology and innovation in businesses. We will also be launching the Conservative Friends of Science at the party conference. This is a forum for dialogue with scientists and leading researchers so that the party stays in contact with what is going on and uses this help to inform policy.
How does your view on science differ from Labour's?
There are few ideological differences when it comes to science itself between Labour and the Conservatives. But where there is a fundamental difference is that Labour's approach is always top down. They have tried to drive science out of the centre and through universities and out of business. Our approach is that innovation should bubble up from the bottom. We want to create an environment such that science and research can easily be translated into innovation. We think that the biggest obstacles to this are along regulatory and fiscal lines that prevent businesses from innovating and using the research they have undertaken.
Will you increase funding for this?
The Labour story on science, which has been about spending money, is now over. David Cameron, leader of the Conservative Party, has spoken of a futures fund to plug a gap in terms of finance available for businesses looking to translate research into products and service. I don't think any government will be in a position to throw a lot more money at science from the taxpayer.
Does that mean you will cut the budget for science?
The Labour story on science, which has been about spending money, is now over. Adam Afriyie , The Conservative Party
That decision is above my pay grade. The country is virtually bankrupt. We have not seen the books yet, but there will clearly have to be cuts. But as minister for science I will clearly be doing my utmost to make sure we have a bright future for science in Britain. If you are spending money, it's a good idea to spend some of that on research and scientific developments. But when it comes to budget allocations, I can't really talk about that now.
How can you convince researchers that they are in safe hands with the Conservatives?
The reassurances I can give are that we are comfortable with the dual-funding model for science (in which half the budget is allocated directly to universities through a block grant and half through competitively won grants from the research councils). Also, we recognize the importance of science and innovation in bringing the UK economy out of recession, and that what is required is early-stage finance for business and start-ups in areas of high technology. Earlier this year Labour tried to usurp the Haldane principle (which says that scientists, not politicians, should decide how research funds are spent). This is something we will be looking to avoid doing. We think scientists are best placed to make these decisions.
What do you mean by "comfortable"? Is that a commitment to continue dual funding?
Personally I would support dual funding. As a party we a very comfortable with that mechanism. Scientists need not fear that the Conservatives will fundamentally change the dual-funding mechanism.
Is the current balance in funding between basic and applied science right?
It is clearly important to ensure that translational research takes place but that must not be done by sacrificing basic research. One should not be sacrificed in favour of the other. But we should not be myopic in thinking the only way to get results from research is with money from the taxpayer. There are other channels, and we will be looking at opening up these other channels. These concepts should be arriving shortly.
What else are the Conservatives doing for science?
Oliver Letwin, chairman of the party's policy review, and I commissioned a report on emerging technologies. It is looking at all sorts of things in which scientific advancement may challenge existing ethics because of the pace at which change takes place. I want to ensure that as a party we have already considered the issues that will be raised. We are going to hold a series of debates around emerging technologies in the near future to ensure that we have explored all these avenues.
Would a Conservative science minister have a seat in the cabinet office?
You will have to ask the party leader. Whether or not there is a seat in the cabinet office, I think science will be at the heart of what a Conservative government does. It is also important that scientists feed into policy debates at an early enough stage. A big failing of the Labour government is that they form a policy and flash it in front of the scientist and ask them to rubber stamp it. I would like to see scientists involved earlier in the process.

Related links
Related links
Related external links
About this article
Cite this article
Gilbert, N. A Conservative approach to British science. Nature (2009). https://doi.org/10.1038/news.2009.973
Published:

DOI: https://doi.org/10.1038/news.2009.973