Use science to build partnerships, urge government science advisers.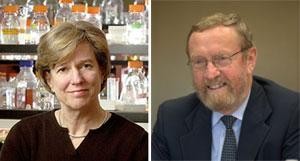 Two leading government scientists from the US and UK have warned against misusing science to achieve political goals. The comments came from Nina Fedoroff, science adviser to Hillary Clinton, secretary of the US state department, and John Beddington, the UK government's chief scientific adviser, at a meeting on science diplomacy in London on 1-2 June.
"Science diplomacy is not the same as the use of science in diplomacy," Fedoroff told the meeting attended by scientists and science diplomats from around the world, adding that she interprets science diplomacy as the "use of science to build partnerships".
Echoing Fedoroff, Beddington said, "there is a danger of using the uncertainties in science for diplomatic and political ends".
A former UK representative on the scientific committee of the International Whaling Commission (IWC), Beddington criticized the IWC's "highly politicized" use of science.
Science diplomacy is not the same as the use of science in diplomacy. Nina Fedoroff
The commission, which governs the conduct of whaling worldwide, last month failed to secure an agreement on proposals to end Japan's whaling activities in the Antarctic. Japan hunts whales under a loophole in the IWC convention that allows "lethal research" on cetaceans.
But the Intergovernmental Panel on Climate Change shows that science diplomacy can work, he said.
Beddington described the UK government's decision to appoint a chief scientific adviser (CSA) to the Foreign and Commonwealth Office (FCO) as a win for the role of science in international agendas and collaborations.
The FCO appointment is aimed at restoring science to the United Kingdom's international agenda after foreign secretary David Miliband ditched science as one of the FCO's priorities in January last year.
The new CSA will work with Fedoroff, who holds the counterpart position in the US administration, to tackle issues such as global poverty and nuclear disarmament. "You can't have an FCO without scientific advice," Beddington said.
Without international collaboration to tackle food, water and energy shortages, he said, these crises could turn into conflicts.
But Fedoroff said that science could be a casualty of a "tight budget" in the state department, which helps to coordinate US scientific collaborations abroad. The US economic recovery package is predominantly focused on investment at home and "this could be a real stumbling block because we need to collaborate internationally".
"There is a tension between home and not home, particularly for science, where the budget is tight. I'm curious to see how this plays out," she said.

Related links
Related links
Related external links
About this article
Cite this article
Gilbert, N. Warning for diplomats over misuse of science. Nature (2009). https://doi.org/10.1038/news.2009.539
Published:

DOI: https://doi.org/10.1038/news.2009.539