Common vision still lacks specifics.
As negotiators come together this week to hammer out a new deal on climate change in Bonn, Germany, African nations are still trying to forge a shared climate vision to help them negotiate together.
More than 300 negotiators, ministers, experts and organizations related to Africa converged in Nairobi last week at the third African Ministerial Conference on the Environment. On 29 May, they released a statement asking industrialized countries to cut their greenhouse-gas emissions by 25 to 40 per cent below 1990 levels by 2020, and for more financial and technical support to help Africa cope with climate change. Beyond that, the 'Nairobi Declaration' contains few specifics.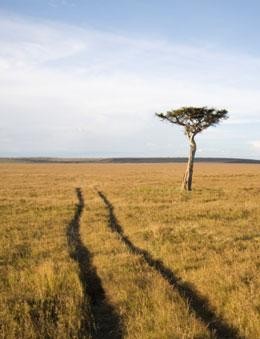 "It was difficult to agree on how much to ask for," says Sputnik Ratau, a spokesman for Buyelwa Sonjica, South Africa's minister of water and the environment, who chaired the ministerial meetings. "Different countries have different needs."
It's unclear whether the vague political statement will give Africa a stronger voice this week in Bonn, or during the international climate negotiations in Copenhagen in December this year. Nevertheless, the United Nations Environment Programme hailed the declaration as taking a "landmark position" and as a "major milestone on the road for combating climate change".
"Africa has benefited the least from the current climate-change regime," says Yvo de Boer, head of the United Nations Framework Convention on Climate Change. Billions of dollars have been put into climate-change projects to benefit developing countries, but they have "not taken off in Africa in any significant way", he says.
"Saying Africa is vulnerable and needs a lot of money is easy," adds Saleemul Huq, who works with developing-country negotiators through the International Institute for Environment and Development in London. "But coming up with more nuanced negotiating texts is not that easy."
Political and ethnic heterogeneity within Africa makes it hard for the continent to forge a united position on most fronts, including climate change. The Arab countries in northern Africa tend to align themselves with the Middle East. Oil-rich countries, such as Nigeria and Angola, are part of the Organization of the Petroleum Exporting Countries and share their interests. Sub-Saharan Africa is further divided into English-, French- and Portuguese-language regions.
But the most apparent divide is between South Africa and the rest of the continent; South Africa is basically a developed nation in a developing continent. Although around 90 per cent of South Africa's energy comes from coal, it has embarked on an ambitious plan to decrease its greenhouse-gas emissions by 2030–2035 through mandatory targets for energy efficiency, carbon taxes and technologies to make its coal power stations cleaner.
South Africa tends to dominate Africa's position in climate negotiations. "In terms of negotiating positions for the African continent, if there is one, it is usually the South African position, and some countries are wary of that," says Benito Müller, who studies climate negotiations at the University of Oxford's Institute for Energy Studies, UK.
Together the African negotiating group represent more than a third of the Group of 77 (G-77), a collection of 130 developing nations that work together in international negotiations. Other groups of vulnerable countries in the G-77 have been fairly successful at pushing their agendas. The small island states, for instance, want the next climate agreement to be based on a maximum acceptable temperature rise of 1.5ºC, to prevent sea-level rise from inundating their lands. The group of least-developed countries are pushing for levies on international flights to raise money that will help them adapt to climate change.
But the African group has been slow to work together, says Müller. That doesn't bode well for their ability to sway the G-77, which is dominated by China, India and Brazil. In with those powerhouses, even South Africa cannot push an agenda for better funding for the continent on its own.
"If they want to make a difference, they need to raise their voice as a group," says Müller. "As individuals, forget it."

Related links
Related links
Related links in Nature Research
Related external links
About this article
Cite this article
Nayar, A. African ministers lay out climate-change policy. Nature (2009). https://doi.org/10.1038/news.2009.535
Published:

DOI: https://doi.org/10.1038/news.2009.535