Genentech's head of early research and development talks priorities and independence.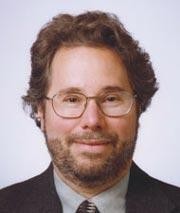 Genentech, a biotech firm in South San Francisco, California, merged with the Swiss pharmaceutical giant Roche in March after protracted negotiations. Richard Scheller, the new head of early research and development at Genentech, talks to Nature about the change and about the disappointing results from the latest trial of its flagship cancer drug, Avastin (see 'Cancer drug hits setback').
Do the results of the Avastin (bevacizumab) trial suggest that Genentech was overvalued at the price agreed to by Roche?
In my opinion Genentech was not overvalued. We have a terrific pipeline and a great long-term future ahead of us. But time will tell.
What do the results mean for the company as a whole?
The disappointing thing of course is that [the drug] will not be available for patients because it didn't meet its primary endpoint. There are several other early-stage trials in progress with Avastin. The data we have obtained may be useful in thinking about these trials.
Tell me a bit about your new job.
Our new group, which we're calling Genentech Research and Early Development, is responsible for proof of concept in man: showing biological activity in a disease state in humans, having a molecule that's manufactured and ready to go into pivotal clinical trials and having a clinical path forward to, if the trial is positive, register the drug. So that is now a single unit here at Genentech, and I am in charge of that unit.
And what about Roche's early R&D?
I report directly to the chief executive of Roche, not through the Roche development or research organisations, which are completely separate. We have our own decision-making authority, our own portfolio, our own culture which we plan to maintain, and which includes a very active postdoc programme. We'll continue to have free time or discretionary time for scientists to work on their own projects.
How will Roche be involved in decisions about the pipeline?
Roche has individual groups that will be working in the same disease areas as us — oncology, immunology, neuroscience, etc — so they have research through early development in their own groups. We have compared the portfolios. There's some, but really pretty minimal, overlap between the two groups. And the places where there is overlap and we're at a similar stage, we'll just continue both programmes and when we, or if we, get to a phase III decision, we'll pick the best molecule and have the other as a back-up. And if or when we finish a phase II clinical trial, the Roche portfolio committee will make a decision as to whether they're interested in developing the molecule. If not, we will out-licence it.
What about biologicals and small molecules? Will you remain focused on the biologicals?
Over the past 3 or 4 years we've dramatically increased the amount of small-molecule drug discovery here at Genentech. Cancer genetics defined a large number of intracellular targets which are really drivers of the oncogenic process, and to remain a leader in cancer therapeutics we believed that we needed to be able to approach those targets.
Are oncology, immunology and neuroscience still going to be the main focus areas?
Neuroscience is a relatively new focus area for us. Last year, we recruited Morgan Sheng from MIT to lead the neuroscience group. He's in the process of putting the finishing touches on what we call our road map for neuroscience, which will define the disease areas that we'll be focusing on — which will of course include neurodegeneration as a primary focus.
Some former Genentech scientists say they don't believe the firm can maintain its culture and independence when there's a giant Swiss overlord.
It was extremely interesting during the whole 9 months of the period between the proposal for the merger and the final merger to read so much about what former [employees] said would happen. It was a bit unfortunate that during that time none of us who are here, or were here then and are still here now, were able to say very much. I will report to the chief executive and run an independent unit. That's a fact. I believe it'll work, and the people that report to me and the people in research and early development believe it will work, and we're extremely excited about it.
What do you think about recent studies that suggest that anti-angiogenesis drugs such as Avastin might have a role in metastasis and invasion, possibly even in accelerating it?
We believe that Avastin works by preventing the growth and maintenance of blood vessels in tumours. In terms of the increase in metastasis — these are animal models and, in our view, specific experimental situations that result in these data that we don't believe are relevant to human cancer. There is no evidence that there is an increased metastasis [in humans]. Certainly in metastatic colon cancer, the fact is, if you take Avastin, you live longer than if you don't.
What is the company doing to ensure that it retains good scientists?
Pretty much every month, I stand up in front of the scientists and I tell them things are not changing. And scientists being the kinds of people they are, I think they are naturally sceptical. One particularly sceptical scientist drove in yesterday and parked next to me in the parking lot at about the same time. As we were walking in I said jokingly, "Hey, seen a lot of changes, haven't you", because nothing has changed.
Beyond that, we have a financial incentive retention plan in place. Nobody is running to the door and leaving. People are giving me the benefit of the doubt.
People aren't afraid of their bosses here. People tell their boss when they think they made a mistake, when they're doing the wrong thing. You know what its like trying to tell your postdoc what experiment to do — it's useless. And that's the kind of culture that we want to maintain at Genentech, and I think that's different from other companies.

Related links
Related links
Related external links
About this article
Cite this article
Check Hayden, E. Richard Scheller. Nature (2009). https://doi.org/10.1038/news.2009.396
Comments
By submitting a comment you agree to abide by our Terms and Community Guidelines. If you find something abusive or that does not comply with our terms or guidelines please flag it as inappropriate.