State defies European Union directive on genetically modified crops.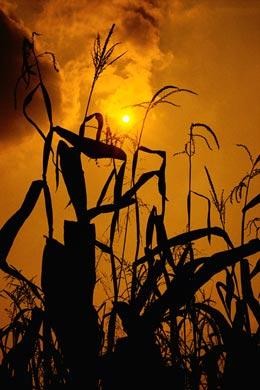 Germany has outlawed the cultivation of Monsanto's genetically modified maize, Mon810 - the only GM crop approved in the European Union.
It joins five other countries — France, Austria, Greece, Hungary and Luxembourg — that have banned the pest-resistant maize despite its approval under a legally-binding EU directive.
Ilse Aigner, Germany's federal agricultural minister, announced the ban on 14 April, just days before the crop would have been sown. Farmers had planned to cover about 3,700 hectares with the crop, mostly in eastern states, which is a decrease on last year's figure of 4,500 hectares. The ban is effective immediately.
Aigner says that scientists in various federal environment research institutes had failed to agree between themselves whether Mon810 posed a risk to the environment. But she said she was encouraged to go ahead with the ban after Luxembourg imposed its own moratorium on the crop, based on a clear-cut risk assessment, at the end of March.
Scientific assessment at the European level determined that any risk to the environment caused by Mon810 would be vanishingly small, a conclusion that is especially convincing because of the stringent safety precautions required by the European Commission's tough approval process.
Research minister Annette Schavan called the decision "regrettable". "Agricultural biotechnology is an important technology for the future that neither Germany nor Europe can leave aside," she said.
The dissent within the government is in part related to preparations for the 27 September national elections. Aigner is a member of the Christian Social Union of Bavaria, whereas Schavan belongs to the larger Christian Democratic Union, to which chancellor Angela Merkel also belongs. Both political parties are represented in Merkel's coalition cabinet.
Bavaria has been particularly opposed to GM crops, and for several months its state agricultural minister Markus Söder has been calling for a ban, at least in his state. Demonstrations against the Monsanto crop took place there over the weekend.
Monsanto, a US company, told the German News Agency that it plans to take legal steps to secure its right to trade freely in Germany. Under World Trade Organization rules, the United States has the right to seek retaliatory measures against regulations that block trade.
The European Commission says it is analyzing the situation. In recent months it has taken steps to force Austria, France, Greece and Hungary to comply with the EU directive by reversing their bans, but so far it has not succeeded because it cannot muster the required level of support from its 27 member states.

Related links
Related links
Related external links
About this article
Cite this article
Abbott, A. Germany bans GM maize. Nature (2009). https://doi.org/10.1038/news.2009.364
Comments
By submitting a comment you agree to abide by our Terms and Community Guidelines. If you find something abusive or that does not comply with our terms or guidelines please flag it as inappropriate.