Greenhouse gas emitted from plants might just be passing through.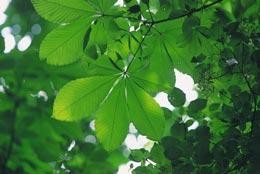 Plants cannot make methane, say researchers seeking to resolve a mystery that has puzzled biologists for several years. Instead, they believe, plants simply take up the gas dissolved in water from the soil, and pass it back out through their leaves.
Three years ago, a European team reported that 10–30% of Earth's methane emissions come from plants1. Methane is a powerful greenhouse gas and, if true, the finding would require a major rethink of the planet's carbon budget.
But the claim has proved controversial. Now Ellen Nisbet, now at the University of South Australia, Adelaide, and her colleagues report that they have failed to find any trace of methane produced by a number of model species, including thale cress (Arabidopsis thaliana), rice (Oryza sativa), maize (Zea mays) and a green alga (Chlamydomonas reinhardtii), when grown in the lab.
Nor do these plants seem to have any way of making methane. A search of plant genome databases found them to contain no genes comparable to those of certain bacteria known to make the gas. The results are reported in Proceedings of the Royal Society2.
If grown in unnaturally high temperatures or strong ultraviolet light, plants do produce small amounts of methane. But Nisbet's team believes that rather than being a result of plant metabolism, this gas is a by-product of the breakdown of cell material.
"People hadn't realized that if there's gas in the soil water it will be taken up and emitted by plants," says Euan Nisbet, an Earth scientist at Royal Holloway, University of London, and a co-author of the new study. "A small amount of methane seems to be generated in some strange way, but it's happening in very small quantities."
"I think we're really getting to the end of the story," he adds. "There's no fundamental biochemistry to be discovered, and no new metabolism. We certainly don't need to rewrite the plant textbooks."
Satellite observations of large methane concentrations above tropical rain forests, which have been interpreted as direct emissions from vegetation3, are too inaccurate to prove that plants are a major source of the global methane budget, he says.
But others think the case remains open. Frank Keppler of the Max Planck Institute for Chemistry in Mainz, Germany, a co-author on the original report on plant methane emissions, observes that recent studies point to a strong link between methane production and ultraviolet radiation, and that methane can come from parts of plants that do not give off water4,5.
Methane dissolved in water may have a role, he says. "But it's definitely not enough to explain our observations. There must be an unknown pathway of methane generation as well."
Keppler's group is doing experiments to establish how stress causes plants to produce methane. The evidence is finely balanced, he says. "Everybody needs to be self-critical about what they're doing. But it's a very exciting controversy indeed."
The debate will continue next month, at a workshop in Mainz.

References
Keppler, F., Hamilton, J. T. G., Bra, M. & Röckmann, T. Nature 439, 187–191 (2006).

Nisbet, R. E. R. et al. Proc. R. Soc. B doi:10.1098/rspb.2008.1731 (2009).

Frankenberg, C., Meirink, J. F., van Weele, M., Platt, U. & Wagner, T. Science 308, 1010–1014 (2005).

McLeod A. R. et al. New Phytol. 180, 124–132 (2008).

Vigano, I. et al. Biogeosciences 5, 937–947 (2008).
About this article
Cite this article
Schiermeier, Q. Study fails to catch plants making methane. Nature (2009). https://doi.org/10.1038/news.2009.25
Published:

DOI: https://doi.org/10.1038/news.2009.25