Federation of academic societies hopes to influence research policy.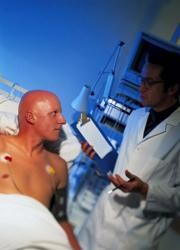 Medical researchers from across Europe have come together in an effort to get their voices heard in debates on research funding and policy.
Around 30 academic medical associations representing many fields including diabetes, cancer and heart disease, met in Stockholm to lay the groundwork for a European federation of medical researchers.
Calls for reform from particular science disciplines or national science bodies are often quashed by policy-makers for being self-interested and lacking vision. The aim of the new federation is to advocate for medical research and lobby the European Union (EU) and national politicians and policy-makers from a common viewpoint.
"There is an absolute need for such a body," says Philippe Halban, a diabetes researcher, and chairman of the Alliance for European Diabetes Research, based in Düsseldorf, Germany, who is involved in getting the federation started. "No one speaks for medical research in Europe. We spend a huge amount of time thinking about science policy, but not much time doing anything about it."
"No one speaks for medical research in Europe. Philippe Halban , Alliance for European Diabetes Research"
The federation will represent medical associations, such as the European Cancer Organisation, in Brussels, rather than individual researchers and will only tackle issues that are common to all associations and fields. For example, it will argue for increased funding from the EU budget for medical research across all fields, but will not comment on funding levels for individual disciplines. The federation also hopes to speak out on key political issues, such as swine flu and stem cells, and improve communication with the public.
Halban says this tactic should help to ensure the federation is effective as an organization representing disciplines with competing interests. Speaking with a "unified voice", he says, will also help the federation have the "political clout" that its individual member organizations lack.
Halban hopes that the member organizations will have agreed on the federation's mission statement by mid-January so that it can be up and running by spring 2010 to feed into discussion on the development of Europe's next framework programme for research, which is due to begin in 2013. In the current framework programme, €50 billion (US$70 billion) is up for grabs.
One key issue the federation will tackle is the need for extensions to EU funding for promising research projects. Ulf Smith, president of the European Association for the study of Diabetes in Düsseldorf, Germany, says money is wasted and excellent research is lost without funding extensions. The nascent federation has been in talks with the US National Institutes of Health (NIH) to learn about its Method to Extend Research in Time (MERIT) Awards to help inform the federation's arguments for funding in the EU. NIH-funded researchers who have shown outstanding success can win funding extensions for up to 10 years under the MERIT award scheme.
"We will be conveying the problems as scientists see them. It's a problem that those making the decisions are not in research because they don't see things from the scientist perspective," says Smith who is also involved in setting up the federation.
Hermann Bujard, director of the European Molecular Biology Organization (EMBO) in Heidelberg, Germany, welcomes the move to create the federation. He says that EMBO, which represents individual molecular biologist across Europe and is influential in research policy debates, would be likely to collaborate with the federation. But he warned that there is a danger that the federation's activities could be slowed by the need for decisions to be individually agreed by its member organizations before being passed.
The federation has set off on the right foot by getting the European Commission on board from the start. Ruxandra Draghia-Akli, head of the health directorate in the research department at the Commission, attended the federation's meeting earlier this month. She told Nature that the Commission would find it "helpful" being given a "clear message" from researchers. It would focus discussions on issues of value rather than losing time to marginal topics, she says.

Related links
Related links
Related external links
About this article
Cite this article
Gilbert, N. Europe's medical researchers team up. Nature (2009). https://doi.org/10.1038/news.2009.1158
Comments
By submitting a comment you agree to abide by our Terms and Community Guidelines. If you find something abusive or that does not comply with our terms or guidelines please flag it as inappropriate.