Future clinical test still waiting for the go-ahead.
The first potential clinical trial of a cell therapy derived from embryonic stem (ES) cells has been put on hold by the US Food and Drug Administration (FDA). Researchers say this reflects the still-unknown risks of such treatments in humans.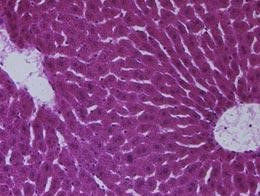 Biotech company Geron in Menlo Park, California, has been talking to the FDA for more than four years over its proposal to inject patients who have spinal cord injuries with oligodendroglial progenitor cells grown from ES cells. The company announced last week that it had received a "clinical hold" on its application, but that the FDA has not yet disclosed the reasons why.
Researchers are unsure whether the agency's action reflects specific problems with Geron's trial or more general concerns about the safety of all ES-cell-derived therapies, in which case other pending trials might also be delayed. To enter trials, companies will need to provide convincing data that the transplanted cells are safe, and particularly that no undesirable cells will cause tumours or other harm, says Ole Isacson, a neuroscientist at Harvard Medical School.
However, criteria for demonstrating this have not yet been established. "I believe the FDA is still educating themselves and no one knows what the risk is for ES cells," he adds.
The hold comes a month after the FDA held its first advisory meeting on how best to evaluate products derived from ES cells. Industry analyst Steven Brozak of WBB Securities in San Diego, California, worries that the decision for the hold was motivated by political objections to ES-cell research, but researchers in the field discount this, saying that the agency is genuinely uncertain about how to ensure safety.
During its April meeting, the FDA indicated it might find it easier to approve trials for terminally ill patients who lack other treatment options, but Geron's product and those of others whose clinical development is most advanced do not fall into that category. Besides Geron, Advanced Cell Technology in Los Angeles, California, hopes to use ES cells to treat macular degeneration, and Novocell in San Diego is working on using them for diabetes.
In the past, the FDA issued holds on clinical trials for several other cell therapies that eventually went forward when companies addressed the agency's concerns, says Curt Freed, head of neurotransplantation at the University of Colorado School of Medicine in Denver. But, he adds, additional experiments required by the FDA sometimes become insurmountable barriers to reaching the clinic.
Evan Snyder, a stem-cell biologist at the Burnham Institute for Medical Research in La Jolla, California, and an adviser to the FDA on ES-cell therapies, believes the trial will eventually move ahead. He says the agency's extreme caution reflects researchers' desire to avoid any adverse reaction that would "constitute such a blow" that it could set back the entire field.

Related links
Related links
Related links in Nature Research
Related external links
About this article
Cite this article
Baker, M. Embryonic stem-cell trial put on hold. Nature (2008) doi:10.1038/news.2008.842
Comments
By submitting a comment you agree to abide by our Terms and Community Guidelines. If you find something abusive or that does not comply with our terms or guidelines please flag it as inappropriate.