Activists fear that blanket patents could stifle independent crop research.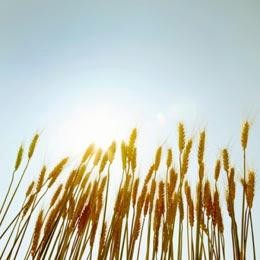 Biotech seed companies are behind a wave of patent claims on dozens of 'climate-ready' genes. The patents cover the development of new crops capable of withstanding drought or other environmental changes wrought by global warming, according to a report released this week by a Canada-based activist group.
The ETC Group in Ottawa, has documented 532 patents filed worldwide by agricultural and biotech companies, warning that major corporations are vying for a monopoly on science that might be needed to adapt to a changing climate.
Many of the applications overlap to create some 55 different 'patent families', covering genes that might promote tolerance to conditions such as heat, drought and salt water intrusion. They have been filed in multiple countries and several of the patents cover many genes across multiple plant species.
The companies say these patents are necessary to intellectual property rights and promote the kind of science that will ultimately increase crop yields, but ETC Group's executive director Pat Mooney says that the patents are so broad that they could stifle independent research.
"The scope of the actual stresses they cover is astonishing," Mooney says. "I suspect that the companies are casting the net as wide as they possibly can, and then they will sort it out afterwards."
The report comes just weeks before world leaders convene at a United Nations meeting in Rome on 3-5 June to discuss soaring food prices in the midst of new pressures from bioenergy production and the ongoing impact of global warming. ETC Group is calling on governments to institute a moratorium on such patents and to expand access to other agricultural aid programs.
Pamela Ronald, a rice geneticist at the University of California, Davis (UCD), says that concerns about major corporations monopolizing these technologies are valid, but perhaps overstated when it comes to the science. She argues that the biggest impact in terms of research might be on smaller companies that are competing with the major corporations.
"It's very rare that scientists can't get a gene that they want," she says. "We do all kinds of research using genes that are patented, and we don't pay that much attention because it's not an issue unless you are going for commercialization."
Alan Bennett, a plant geneticist at UCD who also heads the Public Intellectual Property Resource for Agriculture, a non-profit initiative based in Davis, dismisses the link between these traits and climate as a public relations stunt — on the part of both ETC Group and companies that might be promoting their research as a solution to global warming. After all, the agricultural biotechnology market has always focused on hardy crops that flourish in poor soils with less water and fewer fertilizers.
"These patents are for important traits no matter how climate changes," he says. Industry needs this patent protection to safeguard investments, he adds, but there should be increased efforts to partition humanitarian agricultural markets and provide these technologies more cheaply to poor countries.
Applications submitted by the world's largest seed producer, Monsanto, based in St Louis, Missouri, and by chemical giant BASF Group, in Ludwigshafen, Germany, cover almost half of the patent families cited by ETC Group. Those two companies announced a US$1.5-billion partnership on plant biotechnology in March 2007. Patents applications have also been filed by Dupont in Wilmington, Delaware, Germany's Bayer and Swiss giant Syngenta.
The report suggests that companies may use these 'climate-ready' crops to break into new markets that have to date shunned the use of transgenic crops. Biotech companies are even looking at ways to cash in on international carbon-offset payments, with the logic that their crops will use fewer energy-intensive fertilizers, according to ETC Group's report.
Dermot Hayes, an agricultural economist at Iowa State University in Ames, says these patents might well prove to be a good thing. His research suggests that genetic research and new plant varieties tend to increase crop yields the most in areas where private-sector intellectual property rights are the strongest.
"The results are pretty clear," Hayes says, suggesting that the public sector simply isn't as adept at getting its results "into the hands of farmers".
Ranjana Smetacek, spokeswoman and director of 'global biotech acceptance' at Monsanto, says that corporations are well positioned to do the research, usher biotech crops through the regulatory process, and get them into the hands of farmers. As evidence that commercial patents do not necessarily prevent the spread of technology, she notes that Monsanto is working with African institutions to get water-efficient varieties of maize to local farmers, without collecting royalties.
"We have to find a balance between being generous and recognizing that we also have an obligation to our shareholders," Smetacek says.

Related links
Related links
Related links in Nature Research
Related external links
About this article
Cite this article
Tollefson, J. Biotech companies rush to patent plant genes. Nature (2008). https://doi.org/10.1038/news.2008.834
Published:

DOI: https://doi.org/10.1038/news.2008.834