Experts claim that mass handouts of seeds are not helping poor farmers.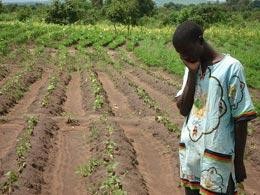 Agriculture and development experts have called for alternatives to the widespread practice of 'seed aid' — the seeds handed out to crisis-stricken African farmers — which they say has not met the needs of local communities.
The call came at an international meeting, held today in Oslo, Norway, and follows the release of a related report on 1 May by international development experts1.
Seed handouts, which are routinely given to poor and war-torn African countries may in fact undermine the recovery of farming markets, says Louise Sperling, a Rome-based analyst at the International Center for Tropical Agriculture, and one of the report's authors.
The handouts can mean that farmers continue to accept handouts long after they should have been able to make themselves self-sufficient, Sperling says. Burundi has now received emergency seed aid for 26 consecutive growing seasons, and Ethiopia for the past 34.
The international community has spent huge amounts of money on seed handouts for crops such as maize (corn), say Sperling and her colleagues in their report. The analysts examined the seed aid given to 15 African countries dating back to 1974.
Although seed aid accounts for only 2-3% of the amount spent on direct food aid, the amount spent on seeds runs to hundreds of millions of dollars. Seed aid has traditionally been given to regions affected by drought, floods, crop failures and civil unrest.
"When seed aid started it was seen as something very innovative," Sperling says. "Instead of giving food and making people [feel like] victims, you give them seed and empower them." The reality is less simple, she argues. "Very often seed availability is not the problem — farmers don't have the cash to access it, so social networks break down."
"One of the big things we have learned is that you can have big drops in food — for example 95% of your sorghum harvest might fail — but with 5% left you still have enough for seed," Sperling explains.
After a Kenyan drought in 1997, some 85% of seed grown in the next season came from local crop strains, despite the fact that the previous crops had been almost non-existent. And after the 1994 Rwandan genocide, which claimed 800,000 lives as a result of ethnic tensions, huge amounts of seed aid were donated but went largely unused.
In response to these concerns, the Office of US Foreign Disaster Assistance, which coordinates US food aid, now gives only 40% of its funds to seed handouts. The remainder goes on voucher schemes for local markets to help reinvigorate local agricultural commerce in the wake of disasters.
This policy was shaped in part by experiences in southern Sudan, where seeds were handed out because the government wanted to discourage local farmers' markets, believing that they were a risk to public safety. Farmers, however, disregarded the handouts and went straight to market.
The meeting in Oslo is the first sign that European governments are beginning to follow suit. Norway's government has issued a white paper calling for a revision of its international food aid strategy.
"We are hoping Norway will bring this to the attention of the United Nations Food and Agriculture Organization and the European Union," says Sigrid Nagoda, a Norwegian spokesperson for international aid agency Caritas, which is jointly sponsoring the meeting.

References
1

Sperling, L., Cooper, H. D. & Remington, T. J. Dev. Stud. 44, 586-612 (2008).
Related links
Related links
Related external links
About this article
Cite this article
Hopkin, M. International seed aid "in need of rethink". Nature (2008). https://doi.org/10.1038/news.2008.826
Comments
By submitting a comment you agree to abide by our Terms and Community Guidelines. If you find something abusive or that does not comply with our terms or guidelines please flag it as inappropriate.