Settlers travelled to the coast to get their seaweed.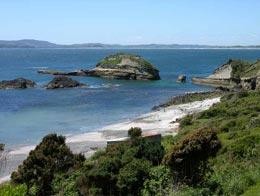 Seaweed was an important source of food and medicine at the oldest human site in the Americas, suggests a new report. The findings suggest that these early explorers previously lived along the coast.
Nine species of 'useful' seaweed were found in remains of dwellings at Monte Verde in Chile. The specimens dated from 14,220 to 13,980 years ago. Remnants of these marine plants were found on the edges of stone tools, which the researchers propose were used to cut and prepare the seaweed. Some of them formed parts of 'cuds' — palate-shaped mixtures of plant matter that looked like they had been chewed on but not swallowed, perhaps for medicinal purposes. Several of the edible seaweeds are known to have been eaten by many different cultures over the millennia.
The settlers would have had to travel around 90 kilometres to reach the coast, or 15 kilometres to reach an inland bay to the south. Such journeys hint that the people may have already been familiar with marine resources, allowing them to return to beaches and estuaries at opportune times to harvest the material. And if they were familiar with the coast, perhaps this is because they had lived there while migrating to their new home.
"The easiest explanation is that the people at Monte Verde made their way to South America from Asia by the coastal route," says archaeologist Tom Dillehay of Vanderbilt University in Nashville, Tennessee, the lead author of the report in this week's Science1.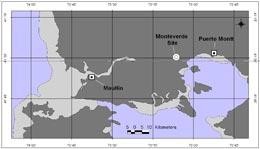 Excavation began at the Monte Verde site about 30 years ago by Dillehay and his colleagues. It is the oldest known site of human habitation in the Americas, dating to about 14,500 years ago – though some maintain that people did not live there quite so long ago.
There has long been debate about how people got to this southern site. If they came from Asia to Alaska, did they then travel down the Pacific coast as ice sheets retreated, or through the centre of the continent? Dillehay thinks that they took the coastal route. One competing theory says that the Clovis people came via an inland route, using spears to hunt large mammals moving between receding glaciers.
Stuart Fiedel, an archaeology consultant with a firm called Louis Berger Group in Virginia, who has long questioned whether people really lived at Monte Verde so long ago, questions whether this seaweed was used by people at the site. Surely people using coastal resources would use more than just seaweed, he notes: oddly the excavations have not recovered substantial remains of the birds, fish or sea mammals that one might expect in the homes of a sea-linked people. "What type of people are we talking about that only make use of seaweed?" he says.
But others agree that the findings show strong coastal links for these people. "This is a solid, well-researched presentation that demonstrates significant maritime links to some of the earliest people to occupy the Americas," says James Dixon, an archaeologist at the University of New Mexico in Albuquerque, an expert in migration theories.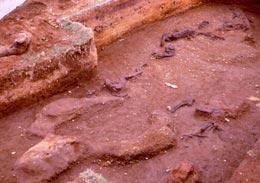 Dillehay has found hints of seaweed at Monte Verde before, but the importance of the plant material only came into focus recently. In addition to seaweed pieces found in the 'cuds' or attached to tools, the team also used a fine sieve on previously excavated material that had been set aside for storage. This turned up 120 grams of delicate seaweed pieces. The team also found a useful freshwater alga, and a collection of 268 edible seeds, fruits or other plant parts.
"This shows you can continue to glean more and more artefacts from collections years later," says Jack Rossen, an archaeobotanist at Ithaca College in New York who is involved with the project.
It also shows that "the primitive inhabitants of Monte Verde had a very varied diet … and were greatly motivated," says co-author Carlos Ramirez, a botanist at the University of Southern Chile in Valdivia.
The plant material was found around hearths or fire-places in wishbone-shaped huts, one of which is thought to have been a medicinal house. Some remnants were charred, indicating that they had been cooked. Two of the plants are known to be used as traditional medicines, for disorders such as stomach ailments and infections.

References
Dillehay, T. D. et al. Science, 320, 784-786 (2008).
Related links
Related links
Related external links
About this article
Cite this article
Dalton, R. Early Americans had a coastal diet. Nature (2008). https://doi.org/10.1038/news.2008.808
Published:

DOI: https://doi.org/10.1038/news.2008.808