Campaign aims to give solar lighting to the developing world.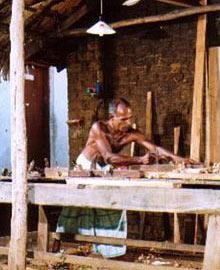 Life may be about to get a bit brighter for some of the 1.6 billion people across the world with no access to electricity. A project aiming to provide cheap access to solar lighting has just received the backing of one of the heavyweights of global science policy.
This week, Rajendra Pachauri, chairman of the Nobel-prizewinning Intergovernmental Panel on Climate Change, lauded the solar-lighting campaign, called 'Lighting a billion lives'. Speaking in Copenhagen, he noted that the estimated US$12 billion spent each month on the US-led military presence in Iraq would go a long way towards the $15 billion needed to bring lighting to almost a billion people.
The billion lives campaign, run by India's Energy and Resources Institute in New Delhi, aims to give people in remote areas access to cheap, rented, rechargeable lanterns. The solar-powered lamps are a cleaner alternative to the kerosene or crop leftovers often burned to provide household lighting after dark, says project coordinator Akanksha Chaurey. They should allow more time for adults to work and children to study, while avoiding the health issues of burning materials in the home.
Chaurey notes that the plan should also help to reduce greenhouse-gas emissions — every lantern, over the course of its 10-year working life, saves almost 3 tonnes of carbon dioxide, she says.
The project was launched in September 2007 with the more modest number of a million in the title, but last month it was re-launched with a billion people in its sights. "Physically, one billion people translates to 200 million lanterns," says Chaurey. "That's the ultimate target."
But that remains a distant goal. So far the campaign stretches to just ten villages, each of which is due to receive a $7,500 donation to pay for 50 lanterns and a central charging station. The first two stations have been installed, one near Calcutta and another in a village not far from Delhi.
Once the central solar station is in place, villagers can hire a lantern for around 5 rupees (12 cents) per charge — roughly what a typical household would otherwise spend on kerosene. The project is seeking donors to sponsor the purchase of the lamps, which cost $80 each — far beyond the pocket of most Indian villagers.
"We hope to get large chunks of support from companies, as well as from individuals sponsoring one or two lanterns each," says Chaurey. Large-scale investors, who will pay the start-up costs of the charging stations, include national governments and large firms such as the banking giant HSBC. "We already have commitments from Mexico, and from the president of the Maldives, and we also hope to begin lighting Africa."
Solar power for the developing world is not a new idea, although it has never before been rolled out on the scale envisioned by Chaurey. Another project, called the Solar Electric Light Fund (SELF), was founded in 1990 in Washington DC, and has since spawned a profit-making spin-off Solar Electric Light Company (SELCO).
The SELF project aims to deliver not just lighting, but also a whole range of solar-powered services, such as radio and television, wireless Internet access, refrigeration and irrigation, says its executive director Bob Freling. SELF has launched whole-village pilot projects in three villages in northern Nigeria, and has smaller projects in Benin and Rwanda. SELCO has installed almost 80,000 solar panel systems across rural India. The people benefiting from these projects so far number in the thousands.
Bringing clean lighting sources to millions of homes would be "an extraordinary accomplishment", Freling says. "I support it and endorse it, if they can make it happen — but life is more than just light. People need clean water and healthcare too."
SELCO has been endorsed as a way for firms to offset their carbon dioxide emissions, allowing financial contributors to feel that they are helping the planet as well as its people.
The billion lives project is not officially recognized for carbon offsetting, and might never be, says Sharon Corrigan, a spokesperson for London-based carbon offsetting agency the CarbonNeutral Company. Projects need to meet certain standards before this can happen: specifically, she says, the money given for carbon offsetting needs to support projects that would not exist without that money, to ensure that additional emissions cuts are actually made.
"Having said that," she says, "it's all for the greater good, whether its an offset project or not."
Chaurey reckons that she has two years to make significant inroads before faith in the billion lives project begins to wane. "There's no deadline, but right now we are aggressively pushing it," she says. "The [Indian] government is promoting education for all — that means spending money on the remotest villages. They need lighting at night so the kids can come home and study."

Related links
Related links
Related links in Nature Research
Related external links
About this article
Cite this article
Hopkin, M. Night lights for millions. Nature (2008). https://doi.org/10.1038/news.2008.673
Published:

DOI: https://doi.org/10.1038/news.2008.673