Chemicals from lab equipment are ruining experiments worldwide.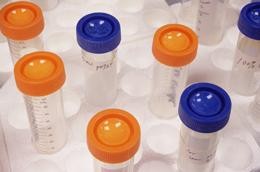 Andrew Holt describes them as "horror stories".
Ever since Holt published a paper describing how standard pieces of plastic laboratory equipment leached experiment-ruining chemicals into his assays, researchers across the world have been in touch about their own experiences. And manufacturers are starting to take steps that could provide a workaround for the problem.
"The variety of experiments that have been affected is quite remarkable," says Holt, a researcher at the University of Alberta in Edmonton, Canada. "People are very pleased that this is being brought out into the open."
Holt's paper in Science1 described how plastics leached potent enzyme inhibitors into his experiments with monoamine oxidase B (see 'Why plastic isn't always fantastic'). Similar and not-so similar problems are now cropping up in academic, medical and commercial labs.
Ann Saada, laboratory chief of the Metabolic Disease Unit at the Hadassah Medical Organization in Jerusalem, was one of those who got in touch with Holt. She was having her own assay problems when she came across a blog about his paper.
"I encountered this problem with the plastic when I switched a bunch of tips. It was the same manufacturer, the same supplier [as usual]," she says. "We started to get an epidemic of disease; every patient we tested with this [particular] assay had this disease."
Although she eventually got round the problem by using another product that affected her assay less, Saada's example shows that it is not just a problem in academia.
"We halted all the diagnostics for a month" to resolve the difficulties, says Saada.
Some manufacturers are now trying to deal with the problem. Holt has been contacted by one company that says its manufacturing process does not use any of the chemicals – lubricants, plasticizers and the like — that Holt identified. Holt is now testing some of the firm's products and hopes they will eliminate the leaching problem.
Eppendorf, a company based in Hamburg that is so synonymous with plastic lab equipment that bench-top centrifuge tubes are often known as 'Eppendorfs', has also been in touch.
Daniel Wehrhahn, the firm's product manager for consumables, says that as Eppendorf doesn't use the chemicals identified by Holt, "it was surprising that an influence of our consumables was shown" in the Science paper. The company is actively seeking information on assay systems so it can advise on which products are suitable for use with which assays.
"Holt told us that it would be very helpful if he could have as much information as possible to see if a specific product would affect an assay," Wehrhahn says. "We will now individually certify our products to be free of [lubricants], biocides or antistatic agents."
Providing information on which compounds can be expected to leach out from certain products could allow researchers to avoid these in specific assays. For example, Holt has found that some of the problems he reported in his original study may have stemmed from coloured Eppendorf tubes, and using clear plastic tubes may eliminate the problem.
Several researchers contacted by Nature News are now working up their research on contaminants with a view to publishing their results. As yet, no papers have been withdrawn due to contaminant interference being uncovered. It is, though, perhaps only a matter of time.
"There is the possibility data have been published which have been misinterpreted, possibly misinterpreted very substantially," says Holt. "It's easily possible these compounds have given false positives or false negatives in published data."

References
McDonald, G. R. et al. Science 322, 917 (2008).
Related links
Related links
Related links in Nature Research
Related external links
About this article
Cite this article
Cressey, D. More biologists report plastic contamination. Nature (2008). https://doi.org/10.1038/news.2008.1291
Published:

DOI: https://doi.org/10.1038/news.2008.1291