Peace prize awarded to climate scientists and politician filmstar.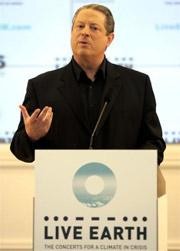 ?We had absolutely no clue, it?s fantastic,? says Stefan Rahmstorf, a climate modeller at the Potsdam Institute for Climate Impact Research in Germany. On 8 - 10 October, Rahmstorf, along with more than a dozen Nobel laureates and many others, was at a symposium in Potsdam discussing climate change and related problems under the rubric ?Global sustainability: a Nobel cause?. On 12 October he and they heard that the Nobel Peace Prize had been awarded to Al Gore, moviemaker and former US vice-president, and the Intergovernmental Panel on Climate Change (IPCC) ? their cause had a Nobel prize of its own.
?Al Gore is a tireless fighter for the cause of climate who thoroughly deserves the prize for bringing this serious issue to the attention of politicians and the public,? says Robert Watson, one of the Potsdam participants and a former IPCC chairman. ?But I am incredibly pleasantly surprised that the IPCC will share the prize, which justly rewards the whole climate research community.? Rajendra Pachauri, current chairman of the IPCC, also sees the prize as recognition of a global achievement. ?I would like to pay tribute to the scientific community, who are the winners of this award,? he says.
As climate change is ultimately a threat to peace and security, the Nobel Peace Prize is a totally appropriate reward for the IPCC?s work, Watson adds. The prize has been given for environmental work before. In 2004 it went to Kenyan biologist and environmentalist Wangari Muta Maathai ? who delivered a speech to the Potsdam meeting via live video from Nairobi ? for initiating the ?Green Belt Movement? in Africa.
The IPCC has issued four assessment reports over the past two decades. Each is an extensive compendium of the available scientific literature on the science and effects of climate change, the result of work by thousands of authors and reviewers. ?I can tell you a thing or two about sifting through piles and piles of reviews on evenings and weekends,? says Rahmstorf, a lead author for the most recent assessment on the physical science behind climate change.
Discussions have recently begun on how to make information compiled by the IPCC more useful and relevant to policy-makers. Pachauri has drafted and disseminated notes listing several options, one being to issue shorter, more targeted and more frequent reports on special issues. Another possibility is to focus increasingly on the regional impacts of climate change. These and other options will be discussed at a series of meetings in the coming months.
?We may have to modify the IPCC to make it more efficient,? says Watson. ?But the Nobel prize just reminds us that we need to continue.?
Environmental advocates and many US scientists lauded Gore?s efforts to bring climate science to a global audience, which began more than two decades ago and most recently took the form of the documentary film An Inconvenient Truth. Michael MacCracken, chief scientist for climate-change programmes at the Climate Institute in Washington DC, acknowledges that Gore was unable to move the United States towards action when he was vice-president under Bill Clinton in the 1990s, but says that since then Gore has been enormously successful in spreading the word. ?It?s been really hard to capture public attention,? he says, ?and I think that is what Gore has really done.?
Susan Solomon, a senior scientist with the National Oceanic and Atmospheric Administration and co-chair of the IPCC?s first working group, calls the prize a ?wonderful victory for science? and credits Gore with delivering the message to the public. ?I love the movie. I really do,? Solomon says. ?I think his goal is to make people aware, and I think that is a very good goal. I don?t think he has tried to promote a political agenda.? Dan Schrag, a geochemist at Harvard University, while agreeing that the prize for Gore was well deserved, is not so sanguine about the politics. ?The only concern I have ? is that Gore has helped make the climate issue a partisan issue in the United States, and that is not true in other parts of the world.?
Predictably, the prize has increased speculation that Gore will make another run for the White House, a possibility that Gore has repeatedly played down but never entirely ruled out.

Related links
Related links
Related links in Nature Research
Related external links
About this article
Cite this article
Schiermeier, Q., Tollefson, J. Climate change - a Nobel cause. Nature (2007). https://doi.org/10.1038/news.2007.164
Comments
By submitting a comment you agree to abide by our Terms and Community Guidelines. If you find something abusive or that does not comply with our terms or guidelines please flag it as inappropriate.