Methane is an abundant energy source that is used for power generation in thermal power plants via combustion, but direct conversion to electricity in fuel cells remains challenging. Now, a microbial fuel cell is demonstrated to efficiently convert methane directly to current by careful selection of a consortium of microorganisms.
Access options
Subscribe to Journal
Get full journal access for 1 year
$62.00
only $5.17 per issue
All prices are NET prices.
VAT will be added later in the checkout.
Rent or Buy article
Get time limited or full article access on ReadCube.
from$8.99
All prices are NET prices.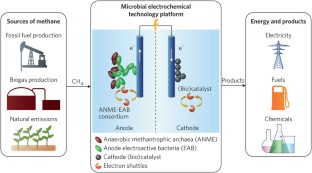 References
1

Allen, G. Nature 538, 46–48 (2016).

2

O'Hayre, R., Cha, S. W., Colella, W. & Prinz, F. B. Fuel Cell Fundamentals (John Wiley & Sons, 2016).

3

McAnulty, M. J. et al. Nat. Commun. 8, 15419 (2017).

4

Logan, B. E. et al. Environ. Sci. Technol. 40, 5181–5192 (2006).

5

Scheller, S., Yu, H., Chadwick, G. L., McGlynn, S. E. & Orphan, V. J. Science 351, 703–707 (2016).

6

Franks, A. E., Nevin, K. P., Glaven, R. H. & Lovley, D. R. ISME J. 4, 509–519 (2010).

7

Wang, H. & Ren, Z. J. Biotechnol. Adv. 31, 1796–1807 (2013).

8

Ding, J. et al. Water Res. 110, 112–119 (2017).
About this article
Cite this article
Ren, Z. Microbial fuel cells: Running on gas. Nat Energy 2, 17093 (2017). https://doi.org/10.1038/nenergy.2017.93