The presence of polysulfides in Li–S batteries significantly affects battery operation, but their presence and reaction mechanisms are not well understood. Now, an operando X-ray diffraction approach is used to directly observe these polysulfides, offering insights on their formation and evolution.
Access options
Subscribe to Journal
Get full journal access for 1 year
$62.00
only $5.17 per issue
All prices are NET prices.
VAT will be added later in the checkout.
Rent or Buy article
Get time limited or full article access on ReadCube.
from$8.99
All prices are NET prices.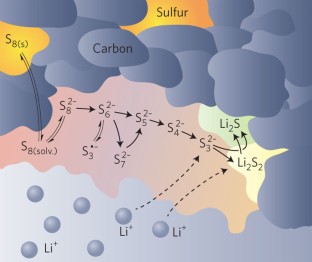 References
1

Hagen, M. et al. Adv. Energy Mat. 5, 1401986 (2015).

2

Conder, J. et al. Nat. Energyhttp://dx.doi.org/nenergy.2017.69 (2017).

3

Patel, M. U. M. et al. ChemSusChem 6, 1177–1181 (2013).

4

Hannauer, J. et al. ChemPhysChem 16, 2755–2759 (2015).

5

Waluś, S. et al. Adv. Energy Mat. 5, 1500165 (2015).

6

Ji, X., Evers, S., Black, R. & Nazar, L. F. Nat. Commun. 2, 325 (2011).

7

Janek, J. et al. J. Power Sources 259, 289–299 (2014).
About this article
Cite this article
Johansson, P. Lithium–sulfur batteries: Making the invisible visible. Nat Energy 2, 17076 (2017). https://doi.org/10.1038/nenergy.2017.76