The deployment of Li–air batteries is hindered by severe parasitic reactions during battery cycling. Now, the reactive singlet oxygen intermediate is shown to substantially contribute to electrode and electrolyte degradation.
Access options
Subscribe to Journal
Get full journal access for 1 year
$62.00
only $5.17 per issue
All prices are NET prices.
VAT will be added later in the checkout.
Rent or Buy article
Get time limited or full article access on ReadCube.
from$8.99
All prices are NET prices.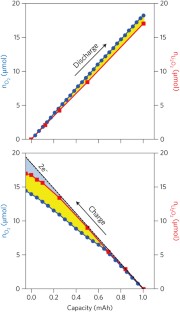 References
1

Christensen, J. et al. J. Electrochem. Soc. 159, R1–R30 (2012).

2

Luntz, A. C. & McCloskey, B. D. Chem. Rev. 114, 11721–11750 (2014).

3

Mahne, N. et al. Nat. Energy 2, 17036 (2017).

4

McCloskey, B. D. et al. J. Phys. Chem. Lett. 4, 2989–2993 (2013).

5

Black, R. et al. J. Am. Chem. Soc. 134, 2902–2905 (2012).

6

Husch, T. & Korth, M. Phys. Chem. Chem. Phys. 17, 22596–22603 (2015).

7

Wandt, J., Jakes, P., Granwehr, J., Gasteiger, H. A. & Eichel, R.-A. Angew. Chem. 128, 7006–7009 (2016).
About this article
Cite this article
Luntz, A., McCloskey, B. Li–air batteries: Importance of singlet oxygen. Nat Energy 2, 17056 (2017). https://doi.org/10.1038/nenergy.2017.56