Transition-metal dichalcogenides are appealing catalysts for H2 generation from water. They tend to rely on scarce edge sites, rather than the more abundant basal-plane sites, to drive catalysis. Now, guided by computation, H-TaS2 and H-NbS2 are proposed as highly basal-plane-active catalysts that improve with electrochemical cycling.
Access options
Subscribe to Journal
Get full journal access for 1 year
$62.00
only $5.17 per issue
All prices are NET prices.
VAT will be added later in the checkout.
Rent or Buy article
Get time limited or full article access on ReadCube.
from$8.99
All prices are NET prices.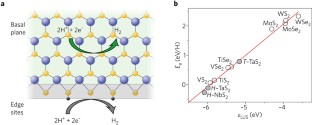 References
1

Turner, J. A. Science 305, 972–974 (2004).

2

Hinnemann, B. et al. J. Am. Chem. Soc. 127, 5308–5309 (2005).

3

Jaramillo, T. F. et al. Science 317, 100–102 (2007).

4

Liu, Y. et al. Nat. Energy 2, 17127 (2017).

5

Ding, Q., Song, B., Xu, P. & Jin, S. Chem 1, 699–726 (2016).
About this article
Cite this article
Chirdon, D., Wu, Y. Hydrogen evolution: Not living on the edge. Nat Energy 2, 17132 (2017). https://doi.org/10.1038/nenergy.2017.132