China has the largest installed capacity of wind farms, yet its wind energy electricity output is lower than that of other countries. A new analysis of the relative contributions of the factors influencing China's wind sector could help policy makers prioritize solutions.
This is a preview of subscription content
Access options
Subscribe to Journal
Get full journal access for 1 year
$99.00
only $8.25 per issue
All prices are NET prices.
VAT will be added later in the checkout.
Tax calculation will be finalised during checkout.
Rent or Buy article
Get time limited or full article access on ReadCube.
from$8.99
All prices are NET prices.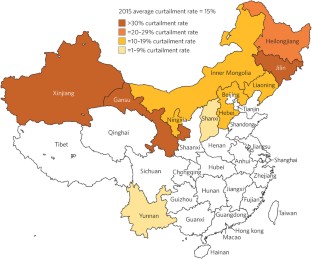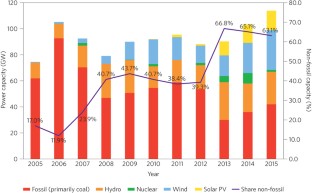 References
1

Energy and Climate Change: World Energy Outlook Special Report (OECD/IEA, 2015).

2

Global Wind Report 2015 (Global Wind Energy Council, 2016).

3

Cusick, D. China blows past the U.S. in wind power. Scientific American (2 February 2016); http://go.nature.com/2MD556

4

Wang, Z. Y., Qin, H. Y. & Lewis, J. I. Energy Policy 51, 80–88 (2012).

5

Davidson, M. R., Kahrl, F. & Karplus, V. J. Towards a Political Economy Framework for Wind Power WIDER Working Paper 2016/32 (UN University Institute for Development Economics Research, 2016); http://go.nature.com/rmELPS

6

Lewis, J. I. Green Innovation in China: China's Wind Power Industry and the Global Transition to a Low-Carbon Economy (Columbia Univ. Press, 2013).

7

Lu, X. et al. Nature Energy 1, 16061 (2016).

8

Energy Board: 2015 National Wind Power Industry to Continue to Maintain Strong Growth Momentum (in Chinese) (China National Energy Administration, 2016); http://go.nature.com/xzIEiq

9

NEA Regulation Number 39: The National Energy Board on the Success of the "Three North" Region (in Chinese) (China National Energy Administration, 2016); http://go.nature.com/Rn8zdr

10

Green, F. & Stern, N. Climate Policyhttp://dx.doi.org/10.1080/14693062.2016.1156515 (2016)

11

China's Intended Nationally Determined Contribution: Enhanced Actions on Climate Change (Department of Climate Change, China National Development and Reform Commission, 2015); http://go.nature.com/UO7DEd

12

Installed Generating Capacity of New and Renewable Sources Experience Rapid Growth (China National Energy Administration, 2014); http://go.nature.com/P7wIHA

13

Statistical Communiqué of the People's Republic of China on the 2015 National Economic and Social Development (National Bureau of Statistics of China, 2016); http://go.nature.com/EeDtb4)

14

China Energy Databook Version 8.0 (China Energy Group, Lawrence Berkeley National Laboratory, 2012); http://go.nature.com/69JehC
About this article
Cite this article
Lewis, J. Wind energy in China: Getting more from wind farms. Nat Energy 1, 16076 (2016). https://doi.org/10.1038/nenergy.2016.76