Materials with high ionic conductivity are urgently needed for the development of solid-state lithium batteries. Now, an inorganic solid electrolyte is shown to have an exceptionally high ionic conductivity of 25 mS cm−1, which allows a solid-state battery to deliver 70% of its maximum capacity in just one minute at room temperature.
Access options
Subscribe to Journal
Get full journal access for 1 year
$59.00
only $4.92 per issue
All prices are NET prices.
VAT will be added later in the checkout.
Tax calculation will be finalised during checkout.
Rent or Buy article
Get time limited or full article access on ReadCube.
from$8.99
All prices are NET prices.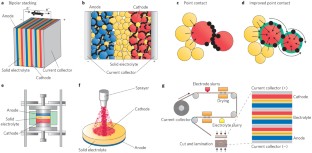 References
1

Armand, M. & Tarascon, J.-M. Nature 451, 652–657 (2008).

2

Dunn, B., Kamath, H. & Tarascon, J.-M. Science 334, 928–935 (2011).

3

Kato, Y. et al. Nature Energy 1, 16030 (2016).

4

Bachman, J. C. et al. Chem. Rev. 116, 140–162 (2016).

5

Kamaya, N. et al. Nature Mater. 10, 682–686 (2011).

6

Guo, Y.-G., Hu, Y.-S., Sigle, W. & Maier, J. Adv. Mater. 19, 2087–2091 (2007).

7

Hovington, P. et al. Nano Lett. 15, 2671−2678 (2015).
About this article
Cite this article
Hu, YS. Batteries: Getting solid. Nat Energy 1, 16042 (2016). https://doi.org/10.1038/nenergy.2016.42