For uptake of electric vehicles to increase, consumers' driving-range needs must be fulfilled. Analysis of the driving patterns of personal vehicles in the US now shows that today's electric vehicles can meet all travel needs on almost 90% of days from a single overnight charge.
Access options
Subscribe to Journal
Get full journal access for 1 year
$99.00
only $8.25 per issue
All prices are NET prices.
VAT will be added later in the checkout.
Tax calculation will be finalised during checkout.
Rent or Buy article
Get time limited or full article access on ReadCube.
from$8.99
All prices are NET prices.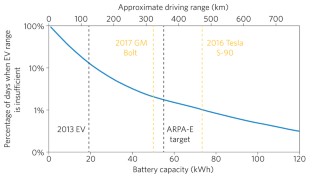 References
1

Davis, M., Alexander, M. & Duvall, M. Total Cost of Ownership Model for Current Plug-in Electric Vehicles (Electric Power Research Institute, 2013); http://go.nature.com/2aACLap

2

Needell, Z. A., McNerney, J., Chang, M. T. & Trancik, J. E. Nat. Energy 1, 16112 (2016).

3

Batteries for Electrical Energy Storage in Transportation (BEEST) (ARPA-E, United States Department of Energy, 2010); http://go.nature.com/2atP9xI

4

Global EV Outlook 2016: Beyond One Million Electric Cars (International Energy Agency, 2016); http://go.nature.com/2ahiOJ5

5

Pearre, N. S., Kempton, W., Guensler, R. L. & Elango, V. V. Trans. Res. C Emer. Technol. 19, 1171–1184 (2011).

6

Olson, E. L. Int. J. Technol. Pol. Manag. 15, 277–296 (2015).

7

Drive unit and battery at the heart of Chevrolet Bolt EV. General Motors (11 January 2016); http://go.nature.com/2b2QGsQ

8

Tesla Model S Technical Specifications (Tesla, 2016); https://www.tesla.com/models
About this article
Cite this article
Kempton, W. Electric vehicles: Driving range. Nat Energy 1, 16131 (2016). https://doi.org/10.1038/nenergy.2016.131