Electricity distribution system planners rely on estimations of future energy demand to build adequate supply, but these are complicated to achieve. An approach that combines spatially resolved projections of population movement and climate change offers a method for building better demand maps to mid-century.
This is a preview of subscription content
Access options
Subscribe to Journal
Get full journal access for 1 year
$99.00
only $8.25 per issue
All prices are NET prices.
VAT will be added later in the checkout.
Tax calculation will be finalised during checkout.
Rent or Buy article
Get time limited or full article access on ReadCube.
from$8.99
All prices are NET prices.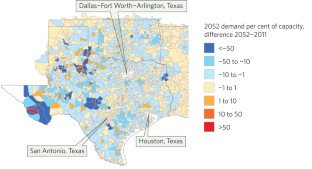 References
1

Clarke, K. C. & Leonard, J. G. Lect. Notes Comput. Sci. 12, 699–714 (1998).

2

Bhaduri, B. L., Bright, E., Coleman, P. & Urban, M. Geo Journal 69, 103–117 (2007).

3

Hadley, S. W., Erickson, D. J. III & Hernandez, J. L. Geophys. Res. Lett. 33, L17703 (2006).

4

Allen, M. R., Fernandez S. J., Fu, J. S. & Olama, M. M. Nature Energy 1, 16103 (2016).

5

Wilbanks, T. J. & Fernandez, S. J. Climate Change and Infrastructure, Urban Systems, and Vulnerabilities Technical Report for the US Department of Energy in Support of the National Climate Assessment (Oak Ridge National Laboratory, 2012); http://bit.ly/29H7ZL9

6

Warner, K., Erhart, C., de Sherbinin, A., Adamo, S. B. & Chai-Onn, T. In Search of Shelter: Mapping the Effects of Climate Change on Human Migration and Displacement (UN Univ./CARE/CIESIN-Columbia Univ., 2009).

7

Allen, M. R., Fernandez, S. J., Fu, J. S. & Walker, K. A. J. Geogr. Nat. Disast. 4, 126 (2014).

8

O'Neill, B. C. et al. Clim. Change 122, 387–400 (2014).
About this article
Cite this article
Janetos, A. Energy infrastructure: Mapping future electricity demand. Nat Energy 1, 16116 (2016). https://doi.org/10.1038/nenergy.2016.116