Abstract
Lithium metal is an attractive anode material for rechargeable batteries, owing to its high theoretical specific capacity of 3,860 mAh g−1. Despite extensive research efforts, there are still many fundamental challenges in using lithium metal in lithium-ion batteries. Most notably, critical information such as its nucleation and growth behaviour remains elusive. Here we explore the nucleation pattern of lithium on various metal substrates and unravel a substrate-dependent growth phenomenon that enables selective deposition of lithium metal. With the aid of binary phase diagrams, we find that no nucleation barriers are present for metals exhibiting a definite solubility in lithium, whereas appreciable nucleation barriers exist for metals with negligible solubility. We thereafter design a nanocapsule structure for lithium metal anodes consisting of hollow carbon spheres with nanoparticle seeds inside. During deposition, the lithium metal is found to predominantly grow inside the hollow carbon spheres. Such selective deposition and stable encapsulation of lithium metal eliminate dendrite formation and enable improved cycling, even in corrosive alkyl carbonate electrolytes, with 98% coulombic efficiency for more than 300 cycles.
Access options
Subscribe to Journal
Get full journal access for 1 year
$59.00
only $4.92 per issue
All prices are NET prices.
VAT will be added later in the checkout.
Rent or Buy article
Get time limited or full article access on ReadCube.
from$8.99
All prices are NET prices.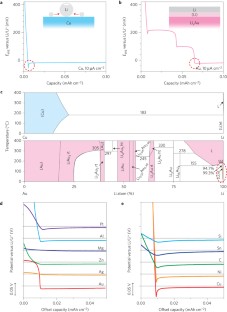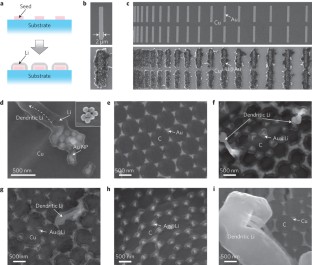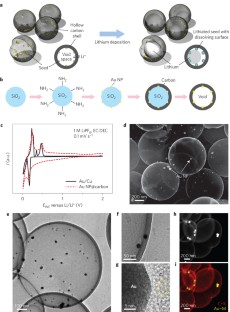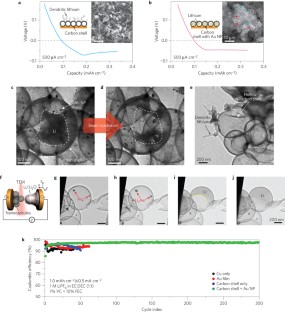 References
1

Tarascon, J. M. & Armand, M. Issues and challenges facing rechargeable lithium batteries. Nature 414, 359–367 (2001).

2

Chu, S. & Majumdar, A. Opportunities and challenges for a sustainable energy future. Nature 488, 294–303 (2012).

3

Whittingham, M. S. History, evolution, and future status of energy storage. Proc. IEEE 100, 1518–1534 (2012).

4

Bruce, P. G., Freunberger, S. A., Hardwick, L. J. & Tarascon, J.-M. Li–O2 and Li–S batteries with high energy storage. Nature Mater. 11, 19–29 (2012).

5

Xu, W. et al. Lithium metal anodes for rechargeable batteries. Energy Environ. Sci. 7, 513–537 (2014).

6

Whittingham, M. S. Electrical energy storage and intercalation chemistry. Science 192, 1126–1127 (1976).

7

Aurbach, D., Zinigrad, E., Cohen, Y. & Teller, H. A short review of failure mechanisms of lithium metal and lithiated graphite anodes in liquid electrolyte solutions. Solid State Ion. 148, 405–416 (2002).

8

Kamaya, N. et al. A lithium superionic conductor. Nature Mater. 10, 682–686 (2011).

9

Bouchet, R. et al. Single-ion BAB triblock copolymers as highly efficient electrolytes for lithium-metal batteries. Nature Mater. 12, 452–457 (2013).

10

Ding, F. et al. Dendrite-free lithium deposition via self-healing electrostatic shield mechanism. J. Am. Chem. Soc. 135, 4450–4456 (2013).

11

Qian, J. et al. High rate and stable cycling of lithium metal anode. Nature Commun. 6, 6362 (2015).

12

Zheng, G. et al. Interconnected hollow carbon nanospheres for stable lithium metal anodes. Nature Nanotech. 9, 618–623 (2014).

13

Yan, K. et al. Ultrathin two-dimensional atomic crystals as stable interfacial layer for improvement of lithium metal anode. Nano Lett. 14, 6016–6022 (2014).

14

Bhattacharyya, R. et al. In situ NMR observation of the formation of metallic lithium microstructures in lithium batteries. Nature Mater. 9, 504–510 (2010).

15

Chandrashekar, S. et al. 7Li MRI of Li batteries reveals location of microstructural lithium. Nature Mater. 11, 311–315 (2012).

16

Huggins, R. Advanced Batteries 123–149 (Springer, 2009).

17

Aurbach, D., Weissman, I., Schechter, A. & Cohen, H. X-ray photoelectron spectroscopy studies of lithium surfaces prepared in several important electrolyte solutions. A comparison with previous studies by Fourier transform infrared spectroscopy. Langmuir 12, 3991–4007 (1996).

18

López, C. M., Vaughey, J. T. & Dees, D. W. Morphological transitions on lithium metal anodes. J. Electrochem. Soc. 156, A726 (2009).

19

Aurbach, D. Review of selected electrode–solution interactions which determine the performance of Li and Li ion batteries. J. Power Sources 89, 206–218 (2000).

20

Visco, S., Nimon, Y. & Katz, B. Compositions and methods for protection of active metal anodes and polymer electrolytes. US patent 20040131944 A1 (2004).

21

La Mantia, F., Wessells, C. D., Deshazer, H. D. & Cui, Y. Reliable reference electrodes for lithium-ion batteries. Electrochem. Commun. 31, 141–144 (2013).

22

Obrovac, M. N. & Christensen, L. Structural changes in silicon anodes during lithium insertion/extraction. Electrochem. Solid-State Lett. 7, A93 (2004).

23

McDowell, M. T., Lee, S. W., Nix, W. D. & Cui, Y. 25th anniversary article: understanding the lithiation of silicon and other alloying anodes for lithium-ion batteries. Adv. Mater. 25, 4966–4985 (2013).

24

McDowell, M. T. et al. In situ TEM of two-phase lithiation of amorphous silicon nanospheres. Nano Lett. 13, 758–764 (2013).

25

Hulteen, J. C. et al. Nanosphere lithography: size-tunable silver nanoparticle and surface cluster arrays. J. Phys. Chem. B 103, 3854–3863 (1999).

26

Liu, N. et al. A pomegranate-inspired nanoscale design for large-volume-change lithium battery anodes. Nature Nanotech. 9, 187–192 (2014).

27

Liu, Y., Goebl, J. & Yin, Y. Templated synthesis of nanostructured materials. Chem. Soc. Rev. 42, 2610–2653 (2013).

28

Li, N. et al. Sol-gel coating of inorganic nanostructures with resorcinol-formaldehyde resin. Chem. Commun. 49, 5135–5137 (2013).

29

Liu, J. et al. Extension of the Stöber method to the preparation of monodisperse resorcinol-formaldehyde resin polymer and carbon spheres. Angew. Chem. Int. Ed. Engl. 50, 5947–5951 (2011).

30

Zeng, Z., Liang, W.-I., Chu, Y.-H. & Zheng, H. In situ TEM study of the Li–Au reaction in an electrochemical liquid cell. Faraday Discuss. 176, 95–107 (2014).

31

Massalski, T. B. & Okamoto, H. Binary Alloy Phase Diagrams (ASM International, 1990).

32

Moon, G. D. et al. Assembled monolayers of hydrophilic particles on water surfaces. ACS Nano 5, 8600–8612 (2011).

33

Stöber, W., Fink, A. & Bohn, E. Controlled growth of monodisperse silica spheres in the micron size range. J. Colloid Interface Sci. 26, 62–69 (1968).

34

Frens, G. Controlled nucleation for the regulation of the particle size in monodisperse gold suspensions. Nature 241, 20–22 (1973).
Acknowledgements
This work was supported by the Assistant Secretary for Energy Efficiency and Renewable Energy, Battery Materials Research (BMR) Program in the Office of Vehicle Technologies of the US Department of Energy. H.-W.L. was supported by Basic Science Research Program through the National Research Foundation of Korea under Contract No. NRF-2012R1A6A3A03038593.
Ethics declarations
Competing interests
The authors declare no competing financial interests.
Supplementary information
About this article
Cite this article
Yan, K., Lu, Z., Lee, HW. et al. Selective deposition and stable encapsulation of lithium through heterogeneous seeded growth. Nat Energy 1, 16010 (2016). https://doi.org/10.1038/nenergy.2016.10
Received:

Accepted:

Published: