Great strides have been made over the past century in our ability to harness energy sources, leading to profound transformations — both good and bad — in society. Looking at the energy system of today, it is clear that meeting the energy needs of the world now and in the years to come requires the concerted efforts of many different actors across a range of technologies and approaches. In this Feature, ten leading experts in energy research share their vision of what challenges their respective fields need to address in the coming decades. The issues being faced are diverse and multifaceted, from the search for better materials for fuels, to the design of energy policy and markets for the developing world. However, a common theme emerges: changes to adapt and improve our energy system are greatly needed. By improving our mutual understanding of the issues faced by each area of energy research, these changes can happen more smoothly, efficiently and rapidly.
Access options
Subscribe to Journal
Get full journal access for 1 year
$59.00
only $4.92 per issue
All prices are NET prices.
VAT will be added later in the checkout.
Rent or Buy article
Get time limited or full article access on ReadCube.
from$8.99
All prices are NET prices.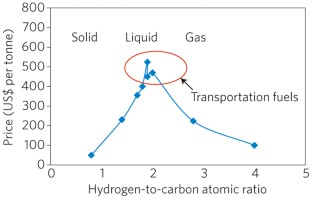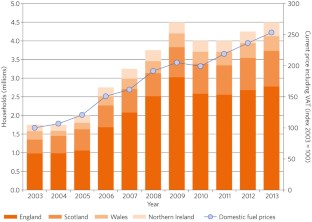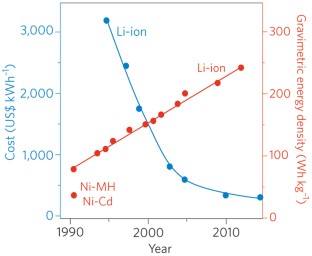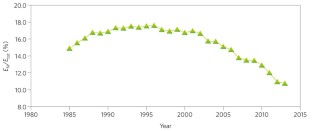 References
1

The Future of Solar Energy: An Interdisciplinary MIT Study (MIT, 2015); http://go.nature.com/oGV7Wa

2

Hossain, J. et al. Wind Energy 2050: On the Shape of Near 100% Renewable Energy — A WWEA Technical Report on Grid Integration (World Wind Energy Association, 2015); http://go.nature.com/wpORGE

3

Slocum, A. Sustain. Energ. Technol. Assessments 11, 135–141 (2014).

4

The Future of Geothermal Energy: An Interdisciplinary MIT Study (MIT, 2006); http://go.nature.com/yFJRUE

5

Trancik, J. et al. Technology Improvement and Emissions Reductions as Mutually Reinforcing Efforts: Observations from the Global Development of Solar and Wind Energy (MIT Energy Initiative, 2015); http://go.nature.com/heN2we

6

McKinsey & Company Unlocking Energy Efficiency in the US Economy (McKinsey Global Energy and Materials, 2009).

7

Loftus, P. J., Cohen, A. M., Long, J. C. S. & Jenkins, J. D. WIRES Clim. Change 6, 93–112 (2015).

8

Allcott, H. & Greenstone, M. J. Econ. Perspect. 6, 3–28 (2012).

9

Davis, L., Fuchs, A. & Gertler, P. Am. Econ. J. Econ. Policy 6, 207–238 (2014).

10

Fowlie, M., Greenstone, M. & Wolfram, C. Do Energy Efficiency Investments Deliver? Evidence from the Weatherization Assistance Program E2e Project Working Paper WP-020 (2015); http://go.nature.com/JANaXp

11

Joskow, P. L. in Handbook of Law and Economics Vol. 2 (eds Polinsky, A. M. & Shavell, S. ) Ch. 16 (Elsevier, 2007).

12

International Energy Outlook 2013 (US Energy Information Administration, 2013).

13

BP Energy Outlook 2035 (BP, 2015); www.bp.com/energyoutlook

14

De Jong, K. P. Catal. Today 29, 171–178 (1996).

15

Meirer, F. et al. J. Am. Chem. Soc. 137 102–105 (2015).

16

Zečević, J., Vanbutsele, G., de Jong, K. P. & Martens, J. A. Nature 528, 245–248 (2015).

17

Fabian, D. M. et al. Energ. Environ. Sci. 8, 2825–2850 (2015).

18

Annual Fuel Poverty Statistics Report, 2015 (Department of Energy and Climate Change, 2015).

19

Dietz, T., Gardner, G. T., Gilligan, J., Stern, P. C. & Vandenbergh, M. P. Proc. Natl Acad. Sci. USA 106, 18452–18456 (2009).

20

Michaels, H. & Donnelly, K. in Proc. ACEEE Summer Study on Energy Efficiency 11–11-173 (ACEEE, 2010); http://go.nature.com/5vUnqg

21

Assessment of Demand Response and Advanced Metering (Federal Energy Regulatory Commission, 2011); http://go.nature.com/FQUZxz

22

Ehrhardt-Martinez, K., Donnelly, K. & Laitner, J. A. Report E105 (American Council for an Energy-Efficient Economy, 2010).

23

Ehrhardt-Martinez, K., Donnelly, K. & Laitner, J. A. in Energy, Sustainability and the Environment: Technology, Incentives, Behavior (ed. Sioshansi, F. P. ) Ch. 10 (Elsevier, 2011).

24

Crabtree, G., Kocs, E. & Trahey, L. Mater. Res. Soc. Bull. 40, 1067–1076 (2015).

25

Schneider, M. & Froggatt, A. The World Nuclear Industry Status Report 2015 (Mycle Schneider Consulting, 2015); http://go.nature.com/rrRBwu

26

Perrow, C. Bull. Atom. Sci. 67, 44–52 (November/December 2011).

27

Ramana, M. V. Bull. Atom. Sci. 69, 66–76 (March/April 2013).

28

Ramana, M. V. & Mian, Z. Energ. Res. Soc. Sci. 2, 115–124 (2014).

29

Statistical Review of World Energy 2015 (BP, 2015); http://go.nature.com/4WH6NZ
About this article
Cite this article
Armstrong, R., Wolfram, C., de Jong, K. et al. The frontiers of energy. Nat Energy 1, 15020 (2016). https://doi.org/10.1038/nenergy.2015.20